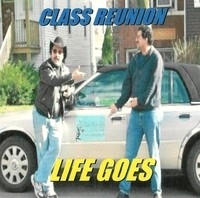 JAD aka Jonathan A. Demas and Shaggy Docious aka Mark L. Sanchez are back for another Class Reunion visit with their latest installment 'Life Goes'.   This time around the duo is hoping for an even bigger turnout with their new release.   'Life Goes'…on for both JAD & Shaggy D as they hope that this year's Class Reunion trip proves to be the best yet!   Well without further ado, shall we?
I had the opportunity to review Class Reunion's previous album 'Music-Nation' (http://www.skopemag.com/2012/08/30/class-reunion-music-nation) last year for Skope and I found out then that these two songwriters & multi-instrumentalists had a lot to offer.   I also found out that Jonathan and Mark have a blast playing together which is key toward having any sort of success as a band.   As I said before without that important element of "enjoyable fun" the music is really dead at that point.   So the boys of Class Reunion have that part nailed but there were some matters I wanted to touch on.   First, the recording quality definitely needs some work which I think would help breathe new, invigorating life into Class Reunion's music & songs.   It all starts with a nice, clean, crisp & clear recording that "Cuts Like a Knife" and adds that professional touch that is so vital when making a record.   Second, I noticed once again that the tempos & rhythms were off a bit to where they didn't seem to fit into the entire song structure.   Lastly, I feel that JAD and Shaggy Docious should spend more time in the studio ironing out harmonies as well as the vocal approach.   By that I mean that the vocal delivery should be consistent throughout the entire 15-track set and not all over the place.   Finding a true identity through voice and overall tone will prove to be a recipe for success!
'Life Goes' Song Montage
http://youtu.be/kKa6wujWCno
I'd like to add that track 13 "It's Saturday Night" has huge potential to become a perfect rock 'n' roll song due to its style & attitude.   Also on "Old Songs", the message is golden and once again HUGE potential!   Class Reunion ended with bang on the song "Day", which proved to be my favorite on the record due to its catchy appeal and overall sound that just seemed to work well on all levels.   It's safe to say that "Day" would be a fan favorite!
So in the end I feel that if Class Reunion does their homework and works out all the kinks well then Jonathan A. Demas & Mark L. Sanchez will pass the test with flying colors!   But in the midst of your cramming never forget that fun is ALWAYS the magic ingredient.   And please remember to throw in some acoustic numbers next time because that, my friends, is Class Reunion playing with a very strong hand.   For more on JAD, Shaggy Docious and their new album 'Life Goes' SKOPE out: www.classreunion.biz.  
http://reverbnation.com/classreunion  
By Jimmy Rae (jrae2@att.net)