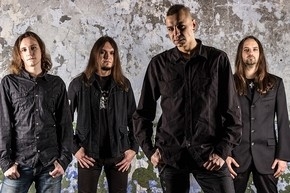 Russian rock metallers GRENOUER, who have been active since 1992, have signed with Mausoleum Records, the legendary label from Belgium. In previous years GRENOUER were famous for playing extreme kind of music, yet today these ambitious performers switched over to songs with clean signing and high profile melodies. Their seventh brand new full-length album "Blood on the Face" is accomplished with outstanding producers — Finnish Anssi Kippo, Astia Studio Sound (CHILDREN OF BODOM, NORTHER, TO/DIE/FOR) and Italians Dualized and Eddy Cavazza, dysFUNCTION Productions (MNEMIC, TERMINAL SICK, LOGICAL TERROR). Dualized made superior mixing at Zeta Factory Studios and afterwards the material got mastered at famous Finnvox Studio by Mika Jussila. The CD comprised of 11 full songs (including STONE TEMPLE PILOTS cover) is scheduled for release on Europe: May 3, 2013, North America July 9, 2013.
"Brain Fever":
http://www.youtube.com/watch?v=j-RYXHxWFcc
Documentary Video:
https://www.youtube.com/watch?v=MW58dqBHs4g
Initially that album was set to see light through USA based label The Metal Den Records (individually run by Randy 'Rocket' Cody) under the title "Showdawn" 2012, yet due to incompetence of that label GRENOUER was forced to terminate the contract and after a while entered in another agreement with authoritative Mausoleum Records. Mausoleum Records suggested new album title, "Blood on the Face, and naturally – new frontcover picture done by Didier Scohier, Artcore Design (ASIA, CINDERELLA, RICHIE KOTZEN).