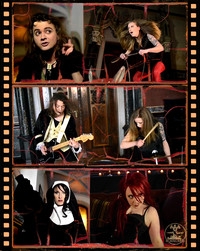 I said I was going to get to the bottom of My Secret Island on the last review (http://www.skopemag.com/2012/09/16/my-secret-island-i-miss-the-day-maxi-single), but I have to say that I'm still working on that.   Well, what I do have for you though is My Secret Island's new single and video for "Evil Fire".   Made up of Mark Van Merm and his Top-Secret Band, there is still no key to unlock this secretive group of island inhabitants.   Just as it says on their webpages M.S.I. is "extraordinarily unique" and they are sticking to that!
"Evil Fire"
http://youtu.be/D0vIsDVAnjE
Just as before Mark is sounding a lot like Geddy Lee of Rush (just inducted into the Rock & Roll Hall of Fame) but the overall vibe is completely different.   Instead of that 60s, classic rock style on their last release, "Evil Fire" contains more of an 80s-style rock sound but done in a very hip 'n' fresh way.   The video itself (http://www.youtube.com/watch?v=D0vIsDVAnjE), from a production standpoint, is professionally done & visually appealing.   The content in the video displays elements of erotica along with dark 'n' sexy seductiveness at its finest.   The viewer will witness Van Merm portrayed as a devil of sorts and his temptress starts off in a nun outfit and then let's just say gets real comfortable.   There are also some pretty weird images of the drummer on top of a fake donkey–no idea on this one!   After hearing all of this you're probably thinking to yourself 'Oh my god this sounds so hellacious and so bad', but I'm here to tell you that could be farthest from the truth.   One may think that this video is of poor taste or highly offensive especially for those with deep religious roots but I'm here to tell you that you should try to look past that.   Reason being is because Mark Van Merm & company are performers acting out their parts in a fictitious setting just like in Hollywood.   If you look at it from that angle then it just may allow your mind to become more open & realistic.     My Secret Island may be playing with fire but all to the tune of one catchy and surprisingly upbeat tone.   The song itself definitely draws you in with its rock riffs, impressive guitar licks and then throw in some powerful drumming to make up one blazing inferno of hot sound!
This new single rocks but I'd like to add that the adult-oriented video is not meant for kids.   However, from an adult perspective I give a TON of credit to My Secret Island's mad originality and artistry.   So I may have not fully figured out the answer to the Secret Island riddle but I did find out that "Evil Fire" is burning with infectious hooks & vocals.   The creative juices are forever flowing for My Secret Island and don't dare try to categorize this band because you will get burned.   To find out more about the new video and song "Evil Fire" hop on over to: http://www.reverbnation.com/mysecretisland.   You can try to put out this "Evil Fire" or crack the M.S.I. code but you have to understand that it just may turn into one BIG failed attempt.
Rating: 4/5 Skopes
By Jimmy Rae (jrae2@att.net)