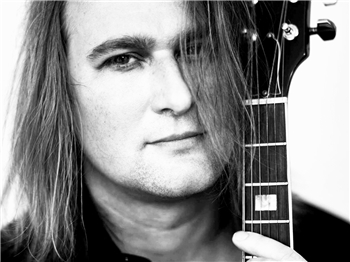 "Progressive Electro-eclectic" may be the most apt descriptor for Paris-based artist, Matthias Sturm's latest outing. Laced with spots of modern day electronic psychedelica, Luna Park will indeed take listeners to the moon. Diverse instrumentation (live and generated), narrative style lyrical delivery and an eerie ethos to the tracks, makes this one far out and approachable; with equal leanings on contemporary and throwback elements.
"Homesick"
http://www.youtube.com/watch?v=VdnqES5f30I
The ethereal "1947" opens the EP with trippy backing key and string note work, glockenspiel chimes and eerie vocal samples. The whole of the track (and much of the album, it turns out) features the strange emotion and feel evoked by 60s Psychedelic a la Quicksilver Messenger Service and those of the same ilk. Vocally, Sturm sounds a lot like vintage Bowie, especially on the opening lyrical delivery of "All Beauty Must Die." The spoken word verse work sits eerily in place amongst the effects-laden electric work, strange backing keys and strings with other assorted clicks and clanks serving fill duties. "Mirror Mirror" again brings multiple soundscapes to the foreground harmoniously with more channeling Bowie on the vocal delivery. The vein of electric runs through this background of this track as with the former but rests on a strong driving drum and bass line with intermittent harmonica honks at the fills. Sturm's adoptive language takes the vocal helm on "Gitan" accompanied by acoustic guitar at the melody. Backing string strums and plucks bolster the French lyrics before his native German makes its way into the mix at the midpoint. Four tracks in and Sturm has brought a true international flare having hit three languages. "Kingdom" is a demure track in down tempo timing, featuring much of the instrumentation as before. The ubiquitous strings hold up the strum melody with busy backing percussion with effects-laden electric and more eerie synth stuff just under the vocals. Closing to "If The Devil Comes" the electronica and guitar usher this one forth with more Bowie vocal delivery with a near mock Reggae backing beat. This shows a clever sense of arrangement in that is serves as an appropriate bookend, sounding very similar to the opening track, 1947.
http://www.cdbaby.com/Artist/MatthiasSturm
Different and unusual; yet completely honest. If this be the predecessor to the Rock Opera that is to come, Sturm has certainly piqued interest. I'm quite curious to hear the entirety of it play out and if he surrounds himself with the players and engineers (and their accompanying resumes) to the full-length, fans are going to have a monster of an album on their hands. This one is diverse and interesting, thought-provoking and again… as far out as it is approachable.    
https://www.facebook.com/pages/MATTHIAS-STURM/182224888491205
Rating: 3.5/5
by Chris West – cwestlaz@gmail.com