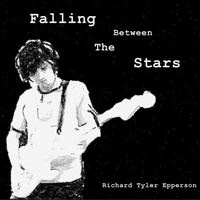 The multi-faceted approach is the best way to describe the new LP from Utah Indie Richard Tyler Epperson. Veins of radio-friendly Pop are there. Strange Electronica a la Radiohead is there. Melodic leanings are there. Five different record stores would all have this in different genres; and they'd all be right. It's just that diverse.
"At Your Door" brings the slightly Reggae-tinged end of things. Acoustic and backing keys supply the melody foundation for the vocal delivery to rest on. Aside from time-keeping drums, the track isn't loaded with instrumentation. "Awake" is rife with electronica, effects-laden vocal delivery and strange clicks and clanks in the track background. This one is busy, urgent and dour with an almost New Age vibe. "Stars" opens to strum acoustic melody in this down tempo track. More effects on the vocal delivery bolster the track with its slight instrumentation. Distorted electric notes open "Sick" in what is an aggressive Rock track and leads the song alongside Epperson's vocal delivery. Heavy and dour, this one is the heaviest of the album. Synth notes open "Save My Life" and delivers heavily on the electronica feel. Strum acoustic and solitary note electric provide the melody to another dark track. Slight backing percussion lends the rhythm section foundation at the verses with a string crescendo of instrumentation at the chorus.
Buy: http://www.cdbaby.com/cd/richardtylerepperson
Again, the multi-faceted approach really puts the album across the board in style, genre and feel. It projects a professional feel in the production side, but maintains a DIY ethos as well. I like the tracks on their own merit, but feel beside a similarity to some of the instrumentation; the absence of cohesion as an "album" really rings out. Perhaps that was Epperson's point and I am simply missing it. And it isn't that it takes anything away. In fact, it lends much in that just about anyone should be able to find something appealing. It's just not one of those albums that you can wrap up into a simple, neat classification. Look for this one in the "Other" bin at your record store.      
by Christopher West – cwestlaz@gmail.com
Rating: 3/5