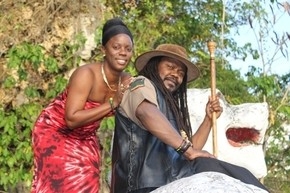 Conscious Bajan Reggae sensation, Lady Virtue has teamed up with Reggae Great, Luciano, for her latest single Tek Di Pressure Off, a social commentary focused on the pressures faced by poor people in developing Caribbean countries.  
Tek Di Pressure Off looks at the relationships between politicians and the people. It also highlights the problem that politicians "excite people with their false predictions" and "lose vision" after gaining power.     Luciano and Lady Virtue send a powerful message to Caribbean governments: "Tek di pressure off the poor people, I'm talking to you Mr. Politician look how much dem support you so everything for them you should do".  
WATCH THE VIDEO:  
http://www.youtube.com/watch?v=T_nyxbmj1N0
The track, produced by Rickman of Jamplified Records, is already receiving rotation on the airwaves in the island.   The video for the song, which is already receiving rotation in Jamaica, includes clips where real people speak about the 'pressures' they are facing in their respective situations because of government actions.