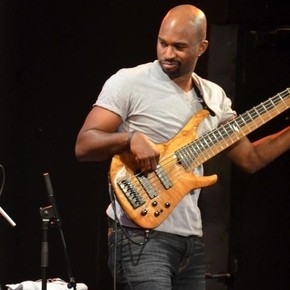 One might easily contend that bassist Anthony Crawford has music flowing through his veins instead of blood.   When you take into consideration that his dad is the noted funk and rock drummer Hubert "H bomb" Crawford, who has played with greats like James Brown, Cyndi Lauper and Mother's Finest, and his uncle is the legendary jazz saxophonist Hank Crawford, the evidence becomes even more convincing.     Now factor in the knowledge that he picked up his first instrument at age two, began visualizing his musical destiny at age 6, started teaching himself the bass at age 12, and was performing on stage with Bette Midler at 14, the evidence is enough to make you really wonder.
http://www.youtube.com/watch?v=P4BsWD8TlOM
One listen to his latest release however, and one just might be totally convinced.   With his new effort, Crawford amazingly mixes, meshes and mingles musical genres in a lusciously seductive terrain he calls "Urban Jazz / My Story."   "Urban Jazz / My Story," on Hydro 6 Records, sweeps across the textures of   jazz, funk, R&B, pop and hip hop and morphs into a musical collage of enchanting innovation and interpretation.