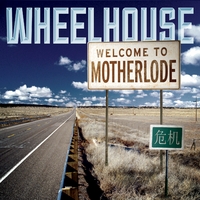 Wheelhouse is a fun-lovin', thoroughly American band, commandeered by Russ Lake, a member of bands throughout the 80s, who, at the turn of the millennium, elected to captain his own musical ship.
"Truth & Lies" is a great juke box tune. When the band's different vocalists join together, it provides for a contagious chorus, heard especially on such lines as: "Truth and lies got us caught in the middle."
"One Good Reason" begins with a rather slow but twangy guitar solo. Lyrically, it seems the speaker is involved in a relationship where both parties feel conflicted and can't figure out whether they want to continue as lovebirds: "Give me one good reason / And I'll walk away / Just one good reason / For me to fade away."
"When the Story is Told" seems a bit more upbeat. Some perky guitar work in the beginning part adds spice. Even better axe-work is heard during an interlude. The lyrics are a bit dark and mysterious with their storm imagery and people "talking in tongues." Perhaps some biblical allegory here.
The speaker in the track "Fish in the Sea" is quite the resolute individual: "If I have to beg, steal or borrow / I'll keep pushing through the driving rain."
I almost thought the track "Things We Said Today" was the work of a different band. Perhaps Wheelhouse is more versatile than I was figuring. If you listen closely, you might agree that parts of "Things We Said Today" rather sound like the Lizard King's "Light my Fire."
Buy:
https://itunes.apple.com/us/album/welcome-to-motherlode/id561165232?ign-mpt=uo%3D4
"Under Cover of Night" starts out pretty brooding, sounds a tad like Nirvana's "Lake of Fire."
"Nothing We Can't Do" is a scrappy lil' piece of rock.
"Thaddeus Rising" is quite the change of pace. During this instrumental track, there's this bass guitar line that goes so low it might fall off the radar.
The track "I'll Be Free" has vocals that are appropriately liberated, and energetically soulful.  
It is hard to overstate the quality of the lead guitar work throughout this album. Someone's makin' like an acrobat on that pentatonic scale!
Think I'm kiddin'? Take a listen: http://www.reverbnation.com/RussLake
 
Ray Cavanaugh – owleyesgatsby@yahoo.com