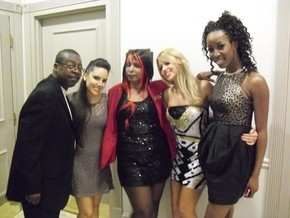 Okay folks, we're back with a new update! March was pretty busy, but we had to come back for the April issue, no doubt. This year's already ripping by and we've pulled out onto the fast lane: MUSICOLOGY 2101 is selling like CRAZY online at Amazon and at  Google Books  so with that said, we're going to have the paper version available very soon — stand by for BIG news!
The MUSICOLOGY book series sheds light on how music traveled with mankind through history, plus I insert some of my professional insights from working at CBS Records/Sony Music between 1984 and 1994 — I guarantee you'll walk away with SUPERIOR INTELLECT after reading this book, and then we'll pick up with the next one in our 4 book series, MUSICOLOGY 2102.
On the MIROSA BEER/ANYTHING BUT MONDAY front, we brought the quadruple-platinum girls of ABM to Atlanta from London to star in their own Big Show! Our Shareholder's Party on March 30 was a huge success with a packed house — check out all the pictures folks posted up on Facebook!
This quarter, we'll debut the first release from Peach City Records — Kimosha LeToi and her new single "EYES STUCK ON ME" now in final mix mode — it also happens to be the Official Song of MUSICOLOGY 2101. We are working on the music video for this great song, so keep your eyes stuck wide open, because you won't want to miss out.
It's gonna be a superb Spring & Summer 2013 and I'll be right here to keep the info rolling in from "PEACH CITY" — Atlanta, Georgia — home of MUSICOLOGY, MIROSA & KIMOSHA. See ya next month!!!
PIC — LJ & ABM
MP3 — EYES STUCK ON ME – http://www.reverbnation.com/kimo1atpcr
YOU TUBE – http://www.youtube.com/watch?v=NiWUnNc1Q0s
By: LA Jackson — musicmon101@gmail.com