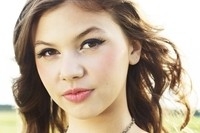 Some musicians start early. Even for those, fifteen is pretty darned early. One could say that Kayla Stockert started even early because while this might be her first official release, she's been singing for years. This is a great release, even if you don't consider her age. It's got a definite modern sound to it, but there is also a bit of a timeless quality. The main thing that really makes this work, though, is the singing. Stockert has a great voice and really sells the material.   Arguably comparisons to modern female singers like Miley Cyrus, Amy Winehouse and Taylor Swift are the most obvious. Still, this is uniquely Stockert's own sound.
In the spring of 2012, Kayla Stockert approached Matt and Andrew Como because she was just starting out as an original artist and needed help writing songs. Kayla and The Como Brothers co-wrote one song together called "Don't Go Messing with My Heart." Then Matt and Andrew wrote two more additional songs for Kayla to sing called "What They Say" and "Your Love" — these songs make up Kayla's debut EP with The Como Brothers Band called "Castles in The Sand."
The opener here is a pop track called "Don't Go Messing with My Heart." While it has some definite processed elements there's a sort of real and organic texture on hand.   There are a number of sounds that seem to merge on "What They Say," from classic to modern and many edges of both of those sounds. Although that opener was great, "Don't Go Messing with My Heart" raises the bar higher. It gives Stockert a chance to show the timeless quality of her voice, too.   While there is a modern edge to "I'm So Young," it's really set in a Doo-Wop sound. In some ways that retro era styling showcases just how young, Stockert is, adding a layer of meaning to the tune. It's one of the standouts in terms of variety. From there several other sounds emerge here and there, from reggae to ballad-like and more. The best track of the set, though, is probably "Your Love." It is definitely pop music at its finest and well worth coming back to over and over again. This is quite an impressive release for any artist, but especially for one so young.
Rating: 9/10
More Kayla Stockert links:
REVERBNATION – http://www.reverbnation.com/kaylastockert
TWITTER – https://twitter.com/KaylaStockert
FACEBOOK – https://www.facebook.com/KAYLAST0CKERT
Review comments: therandbrand@gmail.com
by Steve Rafferty edited by Michael Rand