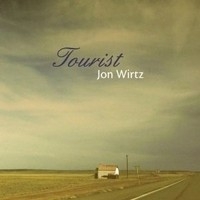 Jon Wirtz is a professional Pianist that hails from Colorado. His latest CD is called "Tourist" and was released in 2013.
Admittedly, there is a whole lot of variety to these arrangements and performances. First: Wirtz and his impressive band delivers rock solid playing like a well oiled machine. This is testament to hundreds of hours of rehearsal time no doubt. Second: Wirtz's playing style hits the mark remarkably well. He has all the attributes required of an effective Jazz musician/songwriter. Third: his sound and amazing songwriting/playing touch are as good as they get. I've heard it said real Jazz is like a gateway to the artists soul. This is mainly because unlike many other forms of music there are no limits or boundaries with respect to the   expression. Having said that all songs presented on "Tourist" are a skillful combination of modern Jazz yet with a slight Popish flair that will remind you Brad Mehldau, Joe Sample, and George Winston. Wirtz has all the creativity and songwriting prowess to be extremely dangerous, and not every square inch of this production is filled with musicianship delivered under duress. It also provides musical space this allows the music to breathe on its own. There is also an undercurrent of passion and artful joy that cannot be faked here. The rhythm section does a good job pushing the natural accents an all pieces deliver the A-Typical Jazz Standard musicianship you would expect. Equally as impressive is how marketable this 10 song catalogue truly is. It covers so much ground and despite this manages to not spread itself to thin across to many lines — nice touch.
My favorite pieces are In the Body, Slumber, Country.
I've always said if you can play it a party or a festive gathering, then it's marketable. This music is extremely marketable – with a fresh sound that is passionate and entertaining very much like Wirtz himself. In close: let me go on record by sating Jon Wirtz is the best pianist I've never heard of.   In-fact I can't believe I haven't heard of him before. His latest release "Tourist" pulls out all the stops has no real weaknesses that I can hear.
Official URL — http://www.jonwirtzmusic.com/
Rating 9/10 Stars
Purchase Link – http://www.amazon.com/Tourist/dp/B00B8NG6WY
By Heather Savage edited by Joseph Crowder
Review Comments: heathersavage5@gmail.com