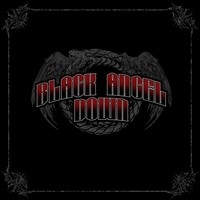 Black Angel Down, fronted by Nokio the N-Tity, is something of a local supergroup, comprised of musicians from Baltimore's underground hard rock scene. While there's surely an underground edge, the term "gritty" wouldn't really do justice to this band of multidimensional talent.
The track, "Pretty Face," features a cocksure, hard-bitten guitar crunch. Occasional natural harmonics on the guitar provide a rich touch to the lyrics: "You know that you can't go away / 'Cause I just can't let you go."
At precisely 3:23 there's this gorgeous vocal explosion. Truly romantic, in the alt rock sense.
I would say that this track lurks somewhere between Sevendust and Crossfade.
 
Regarding the track, "Wind," the guitar riffs are very much like something Jerry Cantrell would've created during the mid-90s. Same thing for the titillating grungy solo that launches at 2:18.
Indeed, even the vocal component makes one reflect on the 90s glory days of Alice in Chains. There is fine chemistry between the instruments and vocals. They can both stop on a dime so abruptly, and then completely shift in another harmonic direction.
http://youtube.com/watch?v=4KzuGt1RZlE
"The sun burns my eyes / 'Til I can't see you anymore."
This is a fine line, much like something Layne Staley (may he rest in peace) would've penned right after mainlining in a rain-drenched Seattle bunker.
However, the line, "soon you'll see the better side of me," seems a tad more optimistic.
"Rockstars Live Eternally" is a truly great title.
My my, the guitar starts peeling away quickly in the track "Bitter Son," which can range from spastically angst-ridden to thoughtfully melodic in its chorus.
The track, "Sniper Scope," with its chorus, "I know you're out there," conveys a fine haunted rhapsody, though one wonders what the speaker's objective(s) may be.
Black Angel Down is a band that can pummel with hard rock assault or serenade with melody. Though the distortion typically stays high, there is something so clean and professional about the sound quality, even when multiple layers are playing at the same time.
All interested parties should head to: http://itunes.apple.com/us/album/black-angel-down/id513587372
http://BlackAngelDown.com  
 
Ray Cavanaugh – owleyesgatsby@yahoo.com