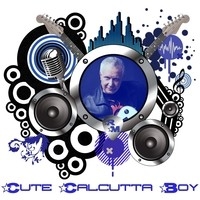 Four years after the release of his last EP 'Calcutta Boy', Rhett May is back with a vengeance!   His new single is titled "Cute Calcutta Boy" which proves that you can take the Rhett out of Calcutta but you can't take the Calcutta out of Rhett May.   May's Indian influence stems back to his birth in Calcutta while also being surrounded by Indian ragas over the years.   Rhett May also has a sweet tooth for the rock & roll sound with experiences and influences that literally span decades.   Back in the day Rhett had the honor of opening for rock legends such as: Freddie Mercury & Brian May and even the iconic band Queen itself!   May enjoyed some good times & success with some of his past bands: The Wooly Bullys later becoming The Flint Stones and also Shakespeare Sarani which changed its name to Prodigy and finally settled on Lucifer.   The Flint Stones single "Be Mine (Happy By My Side)" actually got the attention of former Beatle great George Harrison (RIP) and Apple Records!
"Cute Calcutta Boy" MP3:
http://k005.kiwi6.com/hotlink/b4c6vv97z3/cute_calcutta_boy.21.12.12.mp3
That was then and this is now as the Australian-based singer/songwriter/musician aims to add a fresh new spin on things.   With the sitars adding to the infectious melodies and the tabla providing percussion, Rhett definitely nailed the strong Indian vibe here.   And then add in rock guitar riffs that blend in perfectly and you have yourself one "Cute Calcutta Boy" all wrapped up & ready to go!   Rhett May's deep musical background is what makes this single so special and so unique.  
Rhett May is incorporating many different musical tastes on the new track to the point that it will literally make your head spin in a good way.   May's deep roots in music as well as culture are the true essence of "Cute Calcutta Boy".   All the blood, sweat and tears throughout the years are what made this fine recording possible.  
I have to be honest when I say I was highly impressed with this new song as it will take the listener on an extraordinary journey.   I'd also like to add that I heard major improvements from 'Calcutta Boy' four years ago to the "Cute Calcutta Boy" I hear today.   This "Cute Calcutta Boy" has gotten so much bigger and has grown tremendously since the last time I heard from him.   And yes there is even Pop appeal that Rhett May sneaks in for good measure.   "Cute Calcutta Boy" will be featured on the new, upcoming album titled 'Fast Cars & Sitars' so let the rebirth of Rhett May begin!  
The single is selling like hot cakes and "Cute Calcutta Boy" is playing on well over 600 radio stations across the board!   With the highly anticipated 'Fast Cars & Sitars' coming out soon and a big social media & digital campaign to follow, it's safe to say that Rhett May is back and better than ever!   You can purchase "Cute Calcutta Boy" for a very low price at http://www.rhettmay.com and also feel free to check out Rhett's Myspace page: http://www.myspace.com/rhettmaymusic.com.  
Rating: 4.5/5
By James Rae Jr. – jrae2@att.net