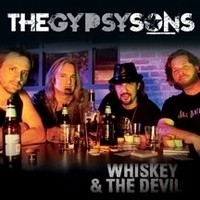 If you've been paying attention, sounds that in the past would have been considered linked to extreme metal have become more and more mainstream as the last couple decades have passed. That kind of influence has splashed across all types of musical genres. Here it's added to Southern Rock. The result is something that has as much in common with Godsmack and heavy metal as it does with Lynyrd Skynyrd. That makes this a great updating of a vital sound. The edge that these guys bring to a somewhat tired genre makes it fresh. It should also allow something that might seem "old fashioned" to appeal to younger audiences. Of course, it helps that they do a great job of creating music inside that style.
Label: Spectra Records
URL: http://www.thegypsysons.com/
It's so hard to separate the classic and modern tones here. That shows just how well these guys manage to merge the two things. As hard as they rock out, though, they manage to keep the music catchy. That's also a hard thing to manage. The lyrics manage to stand up to the smoking hot music here. Again, that's noteworthy. It's obvious that this set is far beyond the ordinary in many ways. From funky on songs like the title track to bluesy on "Sweet Soul Sunshine," these guys really run the range of sounds. Yet it's all got that Dixie edge to it. It's also all modern in terms of the metallica influences. These guys are probably great live and I'd look for them to be making a big name for themselves. Their sound seems likely to appeal to a very wide range of listeners and they pull it all off so well.
Rating: 9/10.
More Gypsy Sons Links:
https://www.facebook.com/thegypsysons
https://twitter.com/thegypsysons
http://www.myspace.com/thegypsysons
http://www.reverbnation.com/thegypsysons
Review by Steve Rafferty edited by Markus Druery
Review comments: marktheshark972@gmail.com