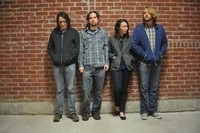 I really like this album a lot. When you think of Jacksonville, Florida, you might think of Southern Rock. Well, this album is not Southern Rock. It's vital and modern rock music with an indie/alternative edge. This owes as much to the grunge movement as it does to groups like REM. Overall, the album is a great ride. While it's got peaks and valleys, the changes aren't radical enough to make this a rollercoaster. Still, it's a thrill ride with sections that let you catch your breath before powering back out.
Label: Spectra Records
URL: http://crashthesatellites.com/
Like any type of musical style, a lot of the originality seems to have been sucked out of indie rock and alternative rock. So much of it sounds the same. Well, Crash the Satellites seem to have made a goal of changing that trend. Nothing here really sounds like any other act. Yet, it all seems to work together nicely. Whether they are rocking it out in an attempt to get you to your feet, or laying down the melodic tones to let the lyrical subtleties really stand out, they manage to keep it original and entertaining. This is an album without any real weak material. It's highly recommended.
More Crash the Satellites links:
http://www.reverbnation.com/crashthesatellites
http://www.myspace.com/search/Music?q=Crash%20the%20Satellites
http://www.last.fm/music/Crash+The+Satellites
http://vimeo.com/7435269
http://www.youtube.com/watch?v=s601xueKM0Y&feature=youtu.be
Official Rating: 9/10
Review by Steve Rafferty edited by Janne Zawa
Review comments: jannezawa@gmail.com