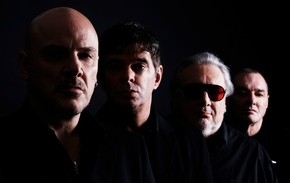 With the forthcoming release of 'Giants', and their single 'Mercury Rising' out now and available as a free download in the US, fans and newcomers now have the chance to experience and enjoy brand new material that remains ever so true to that classic Stranglers sound, and at their very best.
"Mercury Rising":
https://soundcloud.com/allmypeople/08-mercuryrising
"The band are currently on a creative and performing high and are really up for a visit to both the US and Canada." says Jean-Jacques "JJ" Burnel the man responsible for the band's signature overdriven bass sound. Their upcoming tour will take the UK legends all the way from the mid-west, up to Canada, New York City and the east coast, then winding up in sunny California for the Iron & Ink Festival. Be sure to catch The Stranglers live this summer. Tickets go on sale March 22nd
[vimeo 41736652]
Hit singles such as Golden Brown, Peaches, No More Heroes, Skin Deep, and Strange Little Girl, have secured the band a firm place in the rock and roll history books. Regularly hitting the headlines with an instinctive nose for controversy and confrontation, the band's genuine aura of danger and cool combined with tough, and imaginative songs, they created original and dynamic melodies and bass driven aggression that has influenced so many bands to this day.