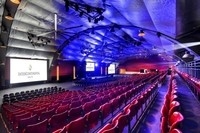 Since first starting to deal with Venuefinder.com approximately 1 year ago, I have always found the service they offer to be courteous, efficient and prompt. They compare over 15,000 locations across the UK & internationally. I have organized many conferences through them, each time they have demonstrated a full understanding of the brief (be it from small meetings through to larger events), offered a choice of accommodation in line with my requirements, and carried this out in a fully professional manner.
To book a venue in London for your next show or event go to http://www.venuefinder.com/venues-in-london/.
I have come to rely on Venuefinder.com for finding the right choice of venue, in the right city at the right price. They commit to and meet timescales for when they will have information back and follow up to ensure that the choices are in line with expectations. I have no hesitation in recommending their services. Venuefinder.com is a very suitable and useful tool for my business or your band, and I believe if you're looking for the right place, you have to check out their offers!