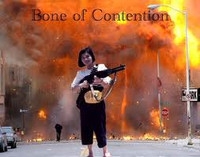 Band:   Chet Cline (Keyboards, Vocals) Dave Haddad (Drums and Percussion) and Bill Pittman and Louie Ruiz (Bass).
Review: "Bone of Contention" is their latest official release and it has much to commend it. Admittedly, there is a whole lot of variety to these arrangements and performances. First: The impressive band delivers rock solid playing like a well oiled machine. This is testament to hundreds of hours of rehearsal time no doubt. Second: Vocalist Chet Cline's and Keyboard presence hit the mark remarkably well. Third: their sound and amazing songwriting touch is action packed. In fact one could classify Bone of Contention as a four genera artist: Progressive, Classical, Alternative and Fusion Jazz-Rock. All songs are a skillful combination of all the aforementioned genera's. Music will remind you of King Crimson, Edgar Varese, Soft Machine and even Mike Keneally. Bone of Contention have the power and songwriting prowess to be extremely dangerous. There's also a unique quality to this catalogue that breaks the mold when compared to the overly predictable, forgetful rock that's been filling the airwaves lately. What am I trying to say — well let me start by saying there is nothing predictable and forgetful about Bone of Contention. Not every square inch is filled with musical ambience delivered under duress — but musical space this allows the music to breathe on its own with passion that cannot be faked. Equally as impressive is how marketable this band truly is as they have effectively found the voice for all frustrated Prog-Rock fans out there. It covers so much ground and despite this it manages to not spread itself to thin across to many lines — nice touch. This is harder to do than it sounds and can only be a by product of being ones self musically. I've always said if you can play it a party, then it's marketable. The music of Bone of Contention is therefore marketable – with a raw sound that is passionate and entertaining very much like these 3 guys from LA.
Conclusion: All 10 tracks will genuinely rock your world, shake the tree and lift your spirits unlike most music you hear on the radio these days.
Top Tracks: Big Bamboozle, Eyes on the Prize, End of an Error
Official URL: http://boneofcontentionmusic.com/
Soundcloud: https://soundcloud.com/bone-of-contention-boc
Final Rating: 5/5 Stars
Written by Heather Savage Edited by Drew Blackwell
Review comments: heathersavage5@gmail.com