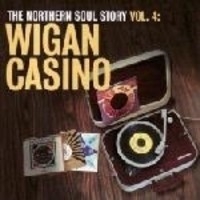 The Seven Souls made a BIG splash back in 1964 when the group formed in LA and now the band is featured on a brand new compilation CD titled: 'The Northern Soul Story Vol. 4: Wigan Casino'!   Even after nearly 50 years since the birth of The Seven Souls their music is still timeless as ever.   The disc features the song "I Still Love You" by The Seven Souls along with 24 other tracks all in the genre of soul & funk.  
The Seven Souls were one of LA's hottest acts back in the 60s and featured many different members through the years including the late Bob Welch who would later go on to front the iconic band Fleetwood Mac.   The Seven Souls were groundbreaking to say the least because they decided to form a racially-integrated group during a period of time when this was unheard of.   Making great music while breaking racial barriers all at the same time; what more can you ask for!
"I Still Love You" is written by Billy Ray Deiz & Henry Moore and Moore is also the lead singer on this track.   Right away I am hearing a cool, classic sound with wonderful harmonizing and lead vocals that are oh so soulful!   The Seven Souls are transporting you back to the 1960s and no DeLorean or "Flux Compacitor" needed for this trip man!   As you are listening to this number you will be amazed at just how catchy the melody is and how sharp the recording sounds.   While listening to "I Still Love You" I pictured someone turning on the radio to their favorite Top 40 radio station back in 1966 and hearing the soothing sounds of The Seven Souls.   The song has that old charm and good feel that will draw you in almost instantaneously!  
"I Still Love You" has that 60s Pop Chart-quality to it as I could definitely picture this one as a hit song during the "Flower Power" generation.   I'm just so happy that this song has resurfaced in 2013 for all to enjoy today!   'The Northern Soul Story Vol. 4: Wigan Casino' is being released by Sony BMG Music Entertainment (UK) Ltd. and you can buy the compilation record right here: http://www.discogs.com/Various-The-Northern-Soul-Story-Vol-4-Wigan-Casino/release/1828895.   You can also listen to and download "I Still Love You" along with many other timeless classics by The Seven Souls all for FREE!   (http://mp3juices.com/search/seven-souls/3)
We can "Hail! Hail! Rock 'n' Roll" all day long but we must not forget about The Seven Souls who laid down a crucial, color blind foundation that would change the face of music forever!  
Rating: 5/5
By James Rae – jrae2@att.net