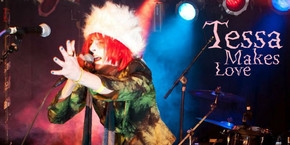 Avant-garde artist, Tessa Lena–aka the creative force behind Tessa Makes Love– is a multi-faceted visionary who tests the boundaries of the human condition through her music and character. Inspired by the work of Andy Golub, who's best known for painting nude models on the streets of NYC, Tessa had good friend and artist, Olenka Barinova, paint her for her video debut.   As a traditionally trained singer, the Soprano became captivated by "Spente Le Stelle" and decided to specifically highlight it with a nuanced interpretation.
[youtube HxtGLpYoSYg]
Tessa offers a world of art, thought, music and sexuality that will challenge your perspective and viewpoint. Like Morpheus offering Neo the choice between the red and blue pill in The Matrix, you're going to have to make a decision when listening to the front-woman's music: convention or liberation? However, if you're willing to go down the rabbit hole with Tessa, you're not going to be sorry.
 
Take a walk on the wild side with Tessa Makes Love's video for "Spente Le Stelle".