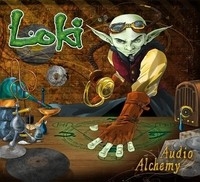 Soaring vocals, infectious melodies, and hard driving guitar riffs abound amongst Loki's brand new EP "Audio Alchemy". Consisting of Jonathan Boyer (Vocals- Lead Guitar), Adam Nichols (Drums), and Seth McClellan (Bass), this up and coming power trio is set on putting their hometown of Portland, Maine on the map. Their latest EP "Audio Alchemy" does just that and more, adding their own personal touch to the ever triumphant hard rock genre.
With more hooks than your father's tackle box, the EP starts off with the grooving "Inner Me", which couldn't have been a better opener. "Get This Right" has a slight Nine Inch Nails meets Disturbed kind of feel to it, with one hell of an infectious chorus sure to lodge itself into your brain for days upon first listen. The musicianship between these 3 individuals is top notch, and for a trio the sound is rather thick and intricate… something that is at times hard to pull off. Said musicianship shines brighter than ever on "Flipped Right Sideways", led by the intricate bass work of Mr. McClellan. At times reminiscent of cited influences Tool and Incubus, these guys manage to effectively meld their influences into a unique one of a kind sound all their own. "Fight or Flight" also has a prominent bass line leading the way, with a Prog-esque chorus giving drum junkies a vital fix of double kick. The EP closes just as relentless as it began, with "Lose Your Nerve", a highlight of the entire album.
With tightly written songs, and top of their game musicianship, one can't help but take notice of everything Loki bring to the table with their latest effort. Make no doubt about it; these guys are poised to make an impact on the rock scene, with a solid EP to back them up.
Overall Rating:1/2
Loki's "Audio Alchemy is available through: www.bullmoose.com
Loki's Links:
Website: http://www.lokifever.com/
Facebook: https://www.facebook.com/lokiband
Myspace: http://www.myspace.com/lokiband
Twitter: https://twitter.com/lokiband
By: Chris Fisher
For B's RSM Promotions