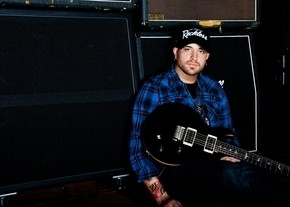 Hello to all on this March 12, the first day of SXSW down in Austin, TX. Although I will not be there this year, you can feel the excitement and hear the music from Boston! I just want to say that certain haters have knocked SXSW for how mainstream and corporate it has become. I could not disagree more because to me that has shown just how strong independent music has become. I just hope everyone has a blast and discovers lots of new music. I will still be checking out new music here with my guest Sam Grow. Sam has been playing music before he could talk and now he is touring with the likes of Ernie Halter and charting singles on I-Tunes. What I like about Sam besides his music is he truly loves this and it shows. Join me today as Sam talks on growing up around music, non-stop touring, buying digital music or streaming, and much more!
Stoli: Where are we talking from today and how is 2013 so far for you?
Currently, I'm talking to you from Southern MD.   2013 so far has been amazing.   I just got off a full tour with Ernie Halter, had two singles chart on the iTunes singer/songwriter chart, locked in a monthly residency at the legendary Bitter End in NYC, and are currently lining up more tours for the year.
Stoli: Did you have any goals for this year in music and how are those coming?
Yes.   I want to tour more, and I also want to make a new record.   The tour plans are in the works and the record is currently being written.   I also have a covers EP that is currently being mixed by Jeff Juliano that will be released shortly.
Stoli: How did you get into music and how much did your family play into you chasing your passion?
I got into music because of my family.   My dad and sister both sang, and my sister plays instruments as well.   I grew up in house with all of that music surrounding me, and I wanted to be a part of it.
Stoli: You are an incredible songwriter. When did you learn to sit down and construct a full song and what inspires you to write?
Thank you very much for enjoying the songs that I've written.   There is no rhyme or reason to how I write songs.   I tend to wait for them to come to me organically.   I have a tattoo on my forearm that says "life, love and music."   I realized they can all coexist.   Life and love lead to music.
[youtube LOebOFd0avY]
Stoli: How did you find the rest of the guys in the band?
I found Gene when I was working on my first album, Ignition.   My producer, Ron Vento hired him to play bass on some of my first tracks.   Gene wanted to do some writing with me, and introduced me to Mike Stacey who he had played music with for many years prior.   Mike has been my guitar player since. After the one member change that I've had in five years of my band, we found Joe, who has been playing drums with us for the past three years.
Stoli: You put out your debut album in 2007. What would you say keeps that fire burning inside of you to keep working on your craft?
The fact that I'm an independent musician keeps me wanting to put out music and expand and grow my support system on a regular basis.   Music is the only thing that I want to do, so I tend to want to make it all the time.
Stoli: I love your song "Lets Make Love." Was that song written for a certain lover and did the song help get her in bed?
Yes and yes.   It was written about my wife and prior to the song, she was just my girlfriend.   I like to think the song made enticed her to say yes to a lifetime with me.
Stoli: Your touring schedule is non-stop. How do you find time to juggle playing live & life and who are some acts that you have opened for?
A lot of my life is tending to the people who support me and my music, but time management is a big factor in my life.   I try to keep a balance between family and music, but my wife and daughter completely understand what I do for a living, so we're a great team.   I've had the honor to share the stage with names like Ronnie Dunn, Boston, Sister Hazel, Tony Lucca, Ernie Halter, Josh Kelley, Keaton Simons, Joe Firstman and even got to open for comedy star Bill Engvall once.
Stoli: I try and be an optimist. When you look at life in the USA now are you excited or are you gloomy?
Both. I'm excited about the fact that we live in a free country and we have a lot more freedoms and opportunities than many other countries, but I am disappointed in how this country is starting to treat small business owners and job opportunists, and I feel like if we were to bond together as a country and worried more about the people in our country instead of political battles, there would be a lot less people struggling.
Stoli: I like how you are releasing singles recently. Is that part of a bigger strategy and do you plan any videos for those singles?
Yes, it's 1000% a part of our strategy.   With sites like Spotify, singles are more like an advertisement for your other projects, and people are way more likely to pay 99 cents for songs in small doses than 10 dollars upfront.   Yes, I'd love to make a video soon.   Know anybody who wants to shoot one for me?
Stoli: Do you buy digital music or are you a streamer?
I buy.   Everything, always.   Music is a part of my life, and I want to do my part to support other musicians the same way that I would want to be supported.
Stoli: What is coming up for Sam Grow and where you at online?
Tons of more touring, a new album, new singles, more YouTube videos, and continuing to hustle to get my music out to music fans. I consider my supporters to be family members, and I want them to feel proud to be a part playing a part in my career.
Facebook: http://facebook.com/samgrowfamily and http://facebook.com/samgrowfans
Twitter: @samgrowmusic
Youtube: http://youtube.com/samgrowacoustik
www.samgrowmusic.com