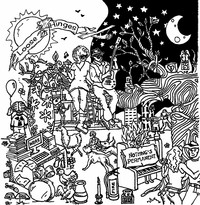 Yes, Nashville is still the epicenter of Country Music. However, in recent years if the city has taught me anything it's that Nashville has morphed into a "singer/songwriter" town. The diversity of acts and music coming out of it is perhaps more varied than ever. For example, take the duo of Eliot Houser and Kris McCarthy who make up the Loose Hinges. Ranging from vampy swagger to deconstructed Blues, this duo eludes pigeonholing in true Indie fashion.
[youtube FnAESeYIqBY]
Opening to singular jangle electric and horn, the staccato tempo of "Don't Give Up On Me" yields a sultry loungey tune with slight percussion and intermittent horn fills. McCarthy's vocals add the aforementioned vampy swagger to this one. Title track "Nothing's Permanent" features distorted electric and backing vintage organ notes wrapped in an "Oohs" and "Ahs" Pop format. The slight instrumentation allows the vocals to again shine on this one, as McCarthy channels Sheryl Crow a la Tuesday Night Music Club. "Every Little Word" features muted horn blasts at the intro before drifting into a slight Latin influence from the Samba tempo to Tropicalia inspired percussion implemented. The electric keeps the melody going while the vocals float to the foreground of the track. "All Of This And Nothing More" features mostly harmonized tandem vocals over repeated acoustic melody. More slight backing drum work keeps time in what is in essence minimalism runs amok, with layers of vocals and instrumentation. Dour electric opens "Why Waste It" while eerie synth rests underneath the guitar and vocal work. Slightly darker than some of the more Pop geared tracks prior to it, the dark ethos of this one builds through to the culmination of the track with a musicality that could make a Radiohead track melody. "It's Gonna Get Better" brings the aforementioned deconstructed Blues with electric whines over a distorted riff foundation. Stripped down and minimal, this is one where the slight parts join to completeness at the sum of the parts. Also a high mark is McCarthy showing her range at the chorus.
If Loose Hinges can achieve this kind of versatility through seven tracks, it makes one wonder what they could muster given four to five more tracks. Also not sure if this is a highlight of their entire repertoire of genres and styles, but if they have more at their command; skies the limit for this duo. Primarily, they make a lot of music for a duo (despite my guess they had guest musicians, rather than laying down individual tracks) one can see that even unplugged, these two have a lot of music at their immediate disposal. Really looking forward to a full-length from these two.      
http://www.reverbnation.com/theloosehinges
Rating: 4/5
Christopher West – cwestlaz@gmail.com