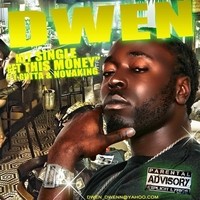 Get ready for Dwen which is short for "Dwennimenn" and stands for "strength and humility".   His new single "Get This Money" is definitely strong with a real toughness layered over the track.   Dwen hails from South Florida where the temperatures are hot and now this rapper is tryin' to "Get This Money" with a red-hot hook of his own.
"Get This Money":
http://www.youtube.com/watch?v=IWOY0nlPUxU
https://soundcloud.com/dweny_menn/dwen-feat-y-gutta-novaking-get
The song features Y- Gutta & Novaking and is the first release off of the upcoming project titled "underrated Vol. 1", the mixtape.   Dwen is servin' up some good, old-fashioned "Stone Cold Rhymin'" just like the talented & extremely underrated Young MC was bustin' out in 1989.   "Get This Money" features a cooler-than-ice flow to go along with infectious beats.   And Dwen's rapping style will get your attention for sure hook, line and sinker!   The track will make you bounce in something that I'd like to refer to as street hop.   The song, the rappin' and the beats are all on point with this joint and maybe…just maybe Dwen can help save the current state of mainstream hip-hop.  
Buy:
http://itunes.apple.com/us/album/get-this-money-feat-y-gutta/id441293691
http://www.cdbaby.com/cd/dwenfeatyguttanovaking
Dwen is an artist to watch out for and his new single "Get This Money" is buzzworthy without a shadow of a doubt!   You can purchase the new release on iTunes, Amazon and CD Baby so go check it out for yourself right now!   You can also find Dwen on: Facebook, Twitter, MySpace, Reverbnation and Jango if you'd like to find out more about this Florida rap artist and listen to his jams.  
Rating: 4/5
By Jimmy Rae – jrae2@att.net