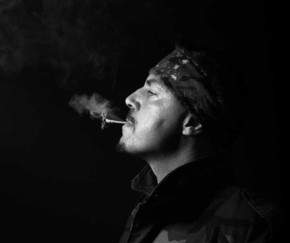 Following the release of his Jan 15th full-length release "Bass For Your Face" on Ultra Music, Cypress Hill producer DJ Muggs is premiering his new video for the album track "Soundclash Business" today. In typical Muggs fashion these visuals really stir the pot for an effect that is equally out-there and fantastic. To give you an idea, this color-jolt of a video was deemed almost too "booty".
[youtube cY5LICjC5do]
The "Soundclash Business" treatment takes place in an underground bunker and plays out like a grown-up version of GI Joes –   Muggs and his army decked out in gas masks, billowing clouds of smoke, and…bikini-clad video girls twerking? –   all over a track that achieves massive sonic destruction.
Directors Andrew Kline and Eric Thompson of Push One Stop created the gritty, futuristic landscape, taking the film's violence and devastation quotient to epic levels.