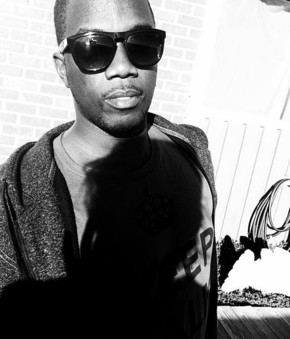 Hello world, I hope you all in New England survived the blizzard from last weekend, man that was a lot of snow. Before we begin I want to give a big shout out to CD Baby. Last week CD Baby announced they will lower the digital sales commission from 25% to 9%. This news made me so happy that a major company like CD Baby is giving back to the indie artists that need the $ the most. Now this week we are celebrating Black History Month with an emcee/musician who I have been following since 2005. Patron The DepthMC is doing a major push with his new single "Socrates Plagiarized a Pharaoh" by offering the song for free on Soundcloud & his Reverbnation page. Join me this week as we talk with Patron about the single offer, Black History Month, his start on the piano, and so much more. Do yourself a favor and grab "Socrates Plagiarized a Pharaoh"!
Stoli: Where are we talking from today and do you miss cold weather in LA?
Patron The DepthMC: Ha…yeah they shoulda coined the phrase a little different then global "warming" cuz its it been cold for sure.
Stoli: Offer readers a brief history of you developing into an emcee and how did you get your musical alias?
Patron The DepthMC: For me it was the natural migration for me as a musician, I did a album that was basically me spitting on dynamic solo piano, to me the beat just makes it easier, and hip hop.
Stoli: You are a very intelligent man who could be a heart surgeon right now. What made you give that up to pursue music?
Patron The DepthMC: I know what a relief right? No diss though it takes incredible discipline to be something like that…but for me music was the bigger challenge…medicine had a clear path laid out, with music, tomorrow is undecided, I like that.
Stoli: Would you say that your family was supportive of your passion for music and what music did you grow up on?
Patron The DepthMC: Oh hell no., Nah, its weird cuz they were supportive as a hobby, but they couldn't make the connection I was making, that "Hey I'm gonna be happy doing this", but for them coming from jamaica, they sacrificed a lot, so I feel them now.   But I had to go my own way.
Stoli: You are offering a free download of "Socrates Plagiarized a Pharaoh" thru your Reverbnation page (http://www.reverbnation.com/patronsworld). What is this song's story about and what inspired you to write it?
Patron The DepthMC: – "Socrates Plagiarized a Pharaoh"
https://soundcloud.com/patronthedepthmc/socrates-plagiarized-a-pharaoh
Patron The DepthMC: For me its like, black history is the whole history, not just Frederick Douglas, Dubois, Booker T. Washington, on down to Dr. King.   It started back in the KUSH empire, or Egypt(I know egyptians are all of a sudden not supposed to be black, seeing as they were to intelligent apparantly to qualify) but can we at least agree they were people of collor and the history of the ancient mediteranean is a lot more colorful and a lot less established.   These are the kind of thoughts that leave me making something like "Socrates Plagiarized a Pharaoh"
Stoli: Who did the beat for the track and where did you record it?
Patron The DepthMC: I do my own recording and production but on the new album I am working with other producers and finding it very provacative, this is a great beat from "geniusboy" I tracked it in a project studio I had setup in Minneapolis, then sent it off for mastering.
Stoli: What is the connection between the song and Black History Month?
Patron The DepthMC: For me the song is just making the connection that black history has made to modern civilization, but in a fun, catchy but not light hearted way.
Stoli: You are so much more than just an emcee, how has your ability on the piano helped enhance your music & career?
Patron The DepthMC: It's definitely given me a certain fearlessness creatively, like what can intimidate me after mastering the piano in the way that I did…I mean like there is such an honesty you need to make good music and when you learn how to do that it's hard to cheat, or b.s . the process anymore. You know what it takes to make the connection with the listener…
Stoli: Your album 'With Character' was distributed through Interscope. How has the backing of a major label helped get your music & promo out to the masses or do you still have to grind?
Patron The DepthMC: I am definitely still grinding on a daily basis, but to me that's where you show your love…
Stoli: Do you feel that mainstream hip hop truly speaks for the young black males out there and what are some issues that concern you in the black community?
Patron The DepthMC: You can't say it doesn't speak for us, cuz hip hop is us.   I just don't think you can judge it singularly anymore, it's evolved into something more and I definitely think it still has a lot of power depending on who's using it.   Post Obama the black community is in transition, America is not as racist as we all thought it was, and yet America is still very racist and this causes problems for a lot of those on the way up. Then you add in poverty which comes with its own setbacks and it's a hard mountain to climb…but I look around and I'm hopeful cause I feel a lot a love coming outta of young people and since they are the future you gotta be hopeful.
Stoli: What does the re-election of President Obama say to you about America as a whole and has he heard your song "Obama We Can Stand Together"?
Patron The DepthMC: You know it's funny, cause in '08 I said my faith in my country was half restored, so I gotta say that with the re-election I'm all in…   We aint perfect but we're getting better and when you look at where we are coming from and you look at where we are and when you realize that America is the only country in the   world where no ethnicity (outside of native Americans) can claim a birthright
To the land. You gotta fall in love a little bit with the idea of America at its best…even if watching a little Oliver Stone has you questioning how much better could we already be?
Regarding the President, well we contributed everything made from the single "Obama we can stand together" to the campaign, I haven't gotten my thank you card yet…but if Bill Maher didn't get his for his million, we a little ways on down from that number …but it was an honor to contribute in a whatever small way I could as a musician and emcee.
Stoli: What is coming up for Patron The DepthMC and where you @ online?
Patron The DepthMC: I'm in the studio working on the new album 'Time for a Revolution in the Music'   —   "Stylz Free"
Should be released in April, lookout for a poetic, revealing new video and Upcoming show dates, going overseas this summer, Europe for sure and we are looking to go back to Japan this time.