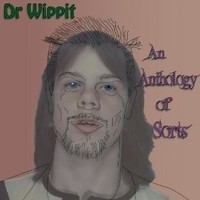 In this overly saturated genera/market with a plethora of artists coming out of the woodwork, armed with nothing more than a PC, Microphone, a guitar and a crappy sounding CD — it's nice to know there are a few bands and artist out there that can still deliver what I call good music. These new artists I speak of manage push their music out to the world and much of it do I dare say is substandard to say the least. So what do bands like Beck, The Bicycle Thief, The Strokes Reel Big Fish, have that Chicago based artist Dr. Wippit don't? Not much really if you ask me save the multi million dollar promotional machines, Producer assistance and major record label support. Dr. Wippit breaks the mold with his impressive sound and catchy vibe. His latest release "An Anthology of Sorts" delivers music that has a deep seeded Ambient-Rock roots with a side of Electronic and Ska and Alternative Rock. His guitar playing, writing and vocal presence is as good as it gets for an Independent Artist. The songwriting from Dr. Wippit is the most amazing part of this CD. Musical overtones that will remind you of acts from Michael Mullins, The Script, One Republic, and even Train to red Hot Chili Peppers. But honestly let me go on record and say there' isn't a "one man band" band out there right now that can go toe to toe with Dr Wippit insofar as vibe and pure musical mojo. Right now after hearing his music – they are the ultimate one man band artist out there right now. I don't say stuff like that often.
Some of the songs on "An Anthology of Sorts" are clear as mud when it comes to the overall production quality. Reading my first paragraph I mentioned he lacks Major Record Label Support. Because of this some Electronic drums, sampling and rhythms sound very amateurish and tinny. But despite this the CD still manages to make a good impression which is quite impressive. So perhaps even great artists have to start somewhere right?
In close Dr. Wippit stands out from other Indie-Alt Artists in a good and bad way within this very saturated singer/songwriter market. "An Anthology of Sorts' is a good starting point to springboard from and despite the CD's issues shows he has potential. Why do I say this? His answer to boring, trivial music is to deliver something unique with a breath of fresh air, a hard hitting signature sound and impressive grooves to call their own. Artists like this are not a dime a dozen. The strong suit of Dr. Wippit is his ability to write you a powerful piece of music via solid musicianship and messages that speak to al the senses.   One would be wise to keep a watchful eye on him over the years to come.
Overall Rating — 7/10
Rory Richardson edited by Drew Blackwell