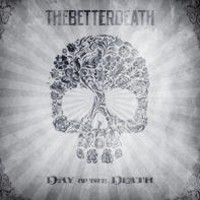 Introduction: Have you listed to the Radio lately? Is it me or is something horribly wrong with today's music. Do you remember when music actually had really instruments in them with real people playing them? No kidding. How about good songwriting performed by artists that not only wrote the music but poured their heat and soul into performing them. Now when one listens to the radio what do you hear: a pretty face, cookie cutter songwriting, crafted via a microphone, some fancy sampling and a mix that sounds more like a commercial than a piece of music. Yes the magic is all but gone from modern-day music, and people are wondering why. Actually there are a few select artists out there that still believe in the power of live performance with real instruments, real songs. Sung by real singers. Artist like Texas based 4 ice outfit The Better Death for example.
URL: http://www.thebetterdeath.com/
Review: Their latest EP entitled Day of Death was released in 2013. I have to say I was extremely impressed with the opening 3 tracks "Genki" , "King Fu Grip" and "Truth in Ruin". They made quite the first impression and each one possessed my full unadulterated attention. To be honest: I expected cheesy Indy Rock that was extremely predictable and shallow in nature — very compatible for a mass audience. Kind of like Nikelback, Lifehouse or Daughtry. What I discovered was actually quite the opposite. The whole CD is wonderfully conservative yet full of what I would call explosive rocked-out energy with music that appeals to so many different senses on so many different levels. It reminds me of   Default, Stand, Fuel, Theory of a Deadman and Crossfade. I can also hear the slight Alternative Rock, Hard Rock influence in there as well. What I really like about The Better Death is there is no attempt to sugar coat the truth or deliver what I call over the top alt rock. Cheezy music with a tattooed face via top flight sampling, cookie cutter songwriting via a mix that sounds more like a commercial than a piece of music.   It will also appeal to both advanced and novice listeners alike — but make no bones about it this is progressive rock n' roll. Whatever kind of listening level you're on – some will identify with things while others will not. Like a three layered cake The Better Death is one band that has a lot of depth and has so much to offer.   Weather it's musically, lyrically, inspirationally, emotionally, spiritually – if you feel like music is taking us in the wrong direction than rest assured The Better Death is taking us back in the right direction away from that horrible Nikelback-esque Corporate Sound with the Day of Death EP.
My favorite track: Genji
Bottom Line: The guys in The Better Death represent all that is good in music and their latest EP "Day of Death" pretty much delivers everything the title implies. It's a highly passionate 5 track catalog via action packed musicianship, entertaining songwriting and music that covers all the bases: Alternative Rock, Hard to Progressive Rock.
8/10
by Michael Keith edited by Mindy McCall
review comments: indiemindymccall@gmail.com