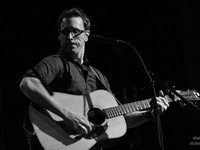 Intro: Jeremy Dion is a singer/songwriter who hails from the Boulder Colorado area. He has been making quite a name for himself regionally and nationally. He has received critical acclaim from many music critics thus far in his musical career and has developed a strong reputation for his impressive songwriting touch and strong singer/songwriter persona.
URL: http://www.reverbnation.com/jeremydion
Review:   "Golden Someday" is his latest release and the result though far from a self-indulgent ego trip, rather a moving and elegiac artistic statement from start to finish. This is not your overly predictable Ramon Noodle Folk-Pop-Rock artist, in fact Dion goes much deeper than that. Dion could even be classed as a 4 genera artist: Alternative Folk, Pop, Americana and even contemporary Singer/Songwriter. Dion clearly has way too much precision and clarity to live in the shadows of overly-predictable Pop Rock. Indeed this is clearly evident in songs like "Desperate Mama" , "Better Day" and "Hallelujah" which methodically ups the ante to a very respectable level of catchy musical expression and craftsmanship that transcends typical pigeonholing. The music is also commercially viable with an invigorating sound and an earthy vibe that makes a real connection with the listener. All pieces within this album hold the attention span of the listener perfectly. In a nutshell this is Bruce Springsteen meets a fresher version of Bob Dylan. However there is an unmistaken mid-west Americana feel to this record. The 11 song line-up comes fully loaded and appeals to many listeners with a wide variety of musical styles and ife experiences.
Conclusion: No doubt Jeremy Dion has carved a marketable niche for himself around Boulder thus setting himself up for more marketable success down the road. But for now I can honestly say this is one artist that clearly gives you a musical snapshot that is highly original, uplifting and dare I say brilliantly captivating in scope.
4/5
by Michael Rand edited by Markus Druery
Review comments: rhodesm@wavecable.com