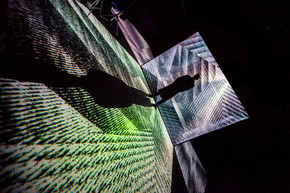 Jamie Lidell is premiering the video for "You Naked," a new song from his highly-anticipated self-titled album, out February 19 on Warp Records. The video, which can be streamed and shared here [LINK], was directed and filmed with no added special effects by Flat-e, the London-based studio who designed the album art.
[youtube 65r_xN1eWeY]
The "You Naked" video incorporates some of the visuals that Flat-e produced to accompany Jamie Lidell on his upcoming world tour, which kicks off in London on March 8. The tour will include stops in France, Germany and Turkey before making its way to the U.S.
Photo Credit: Sandra Ciampone