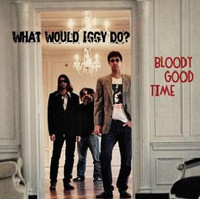 From California comes a fresh band known as What Would Iggy Do who just released his latest effort Bloody Good Time (2012). Band: Dominic Kelly (Vocals, Bass Guitar, Rhythm Guitar), Derek Schanche (lead guitar), Dan Naim (Keyboards).
I always listen to the opening track extremely carefully. It's the opening track the artist has selected to hit your ears first and foremost. The opening title track sets the stage rather appropriately for an EP like this. It was a great intro piece that stuck in my head and had me eager for what lied ahead. All in all the whole EP is brilliantly delivered with a straight ahead Alternative Rock texture yet delivers songs that have a serious popish staying power. Music will remind you of Fleet Foxes, Robin Pecknold, Bob Iver, Local Natives. The Tallest Man on Earth and Iron & Wine. Despite this there's definitely an English invasion aftertaste to this band that all Americans love. To be honest I can't say enough about a band like What Would Iggy Do and their overall appeal and the impact it had upon me as a listener. "Bloody Good Time" delivers   a very explosive and good-time sound that grabs the listener right from the start. It sucks you in. What Would Iggy Do has a sound that favors many rock bands in the 70's but with a modern day feel — very similar to Oasis on steroids. I've never heard an artist so skillfully combine so many genera's into one unique sound. Weather this is by design or simply by accident it's amazing.
The songs that stuck with me the most were "Bloody Good Time" and "Naked Mojo."    
If there was one word I would use to describe What Would Iggy Do it would be invigorating. This CD will simply make you feel like your at party, but there is an undeniable passion beneath all this. These cats are also very capable players and writers as the proof is in the music. But it's obvious to me their primary goal as a band is to make this world a better place one bash at a time…..
Soundcloud Link – http://soundcloud.com/domkellymusic/what-would-iggy-do-full-mix-1
Overall Rating: 8/10
by Mindy McCall edited by Michael Rand
Facebook – https://www.facebook.com/WhatWouldIggyDo
Review Comments – indiemindymccall@gmail.com