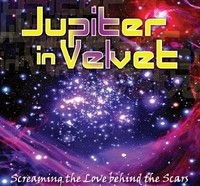 Who can forget the greatest Rock n Roll party of all time? Fortunately I am old enough to remember some of it.   Trust me when I say being in London in the early 60's and late 70's was the place to be as bands like The Beatles, The Who, The Rolling Stones and Led Zeppelin dominated the airwaves. So amazing was this generation and it's contribution to pop culture it still has it's stamp on music today. Bands like Muse, Kasabain, The Killers and even Kaiser Chiefs bring a psychedelic aftertaste to their blend of Rock. There is a new yet mysterious artist from London that is cut from the cloth as some of the aforementioned bands, but with a more modern feel. This artist goes by the name of Jupiter in Velvet.
"Screaming the Love Behind the Stars" (2012) is his latest release and it has much to commend it. Admittedly, there is a whole lot of variety to these arrangements and performances. First: the impressive JIV on guitar and vocals coupled with the impressive line-up of opening songs makes quite the first impression. JIV delivers rock solid playing and impressive songwriting skills to boot. This is testament to hundreds of hours of rehearsal time no doubt. Second: Vocally TIV is the real deal and has all the typical attributes needed of an effective singer/songwriter (visuals and vocals). Third: JIV's combination of modern rock yet with a slight Psychedelic-Indie band aftertaste will remind you of music popular today. JIV has the creativity, production expertise and songwriting prowess to be extremely dangerous. There is also a unique quality to this catalogue that breaks the mold from the mundane pop-rock that's been filling the airwaves lately. This latest CD delivers an alternative-rock sound that will remind you of Muse, Kasabain, The Killers, and the Kaiser Chiefs. Not every square inch is filled with musical ambience delivered under duress — but musical space this allows the music to breathe on it's own. My top tracks are "Jupiter in Velvet", "Just one Day" and "Comet Come on". Equally as impressive is how marketable this catalogue truly is. I always said if you can play it a party, then it's marketable. The music of JIV works its magic and is extremely marketable with a fresh sound that is simply very likeable very much like the artist himself. All 10 tracks will genuinely lift your spirits unlike most music you hear on the radio these days.
Official URL— http://www.jupiterinvelvet.com/fr_home.cfm
Purchase link @ I-TUNES
http://www.jupiterinvelvet.com/fr_home.cfm
Final Word "Screaming the Love Behind the Stars" from JIV has everything. It's an endearing album limited by nothing. I would imagine in time we will hear more from this rather mysterious artist as 2013 unfolds. Time will tell but I can honestly say this is one artist set up for success down the road with his marketable appeal and fresh sound that gives modern music a well needed shot in the arm.
Review Comments: heathersavage5@gmail.com
by Heather Savage edited by Cyrus Rhodes
Overall Rating: 4.5/5