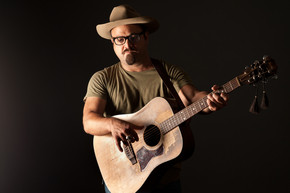 Like the Radio Dial of yore that serves as its fitting name, Jason Blum's new album tunes into a wide range of stylistic, emotional and locational signals. It takes the listener on a journey akin to the wide travels that brought him to making such a rich and diverse, yet definitive collection of songs. As Blum sings on the seductively swaying title track, "There's a song that will carry you across the ocean tuning in on your radio dial."   Jason Blum will release Radio Dial on March 26, 2013 on Bitchin Records.
[youtube Tk68Un0my30]
The title track was produced and engineered by Tom Schick (Paul McCartney, Rufus Wainwright, Ryan Adams, Sean Lennon), but the entire album was produced by Blum himself and mixed by James Stevens at EAR Studios in Austin.   Radio Dial blends together Blum's recording journey through studios and scenes in Austin, New York and Maryland as well as his years perfecting his vision in his home studio.
Photo Credit: Michael Weintrob