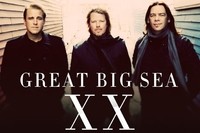 This new release covers the Newfoundland trio GBS's 20 years in the biz, with 40 tracks (including six new ones) on two CD's.   The discs are divided in two categories, the Pop songs, and the (traditional and folk) Folk Songs.   A box set with a DVD is also due to be released.   The multi-instrument group consists of Alan Doyle (who has written songs with Russell Crowe), Bob Hallett, and Sean McCann.  
This group is an interesting mix reminiscent of an Irish barroom folk band, combining folk, rock, and Zydeco.   An interesting cover is Pete Townsend's Let My Love Open The Door.   This take is similar to the original, with some of their nuances, not goofed up.   GBS is one of the original folk/party bands that are able to ride the train of the recent popularity of this genre of groups.   Groups like Flogging Molly, Dropkick Murphys, and Mumford & Son's, to name a few, have put some spice into the stereotyped traditional folk music.
There are some good ballads like Walk On The Moon and Live This Life.   Whether traditional or original, the material covered by GBS takes the listener to the high seas, dive bars, and tales of old.   If you want to give your ears a break from the current pop offerings, or have a yearning to be back at that old waterfront pub, grab some Guinness and go for it!
Folk rock, a 3.
By RME