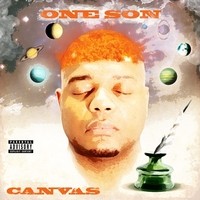 While the music industry is in dismay it's always a breath of fresh air to hear an artist that's not afraid to take chances. With his fourth solo offering Canvas, ONE SON has surpassed what we consider as the usual rap release.
From the beginning O-La-A gives you an anthem that keeps the listener on the edge of his seat with lyrics like " I refuse to settle I just peddle never been held by Geppetto made it out of the ghetto". Enchantress is another highlight that's receiving an overwhelming international response and expands the possibilities of a radio hit. The production is also top notch as Monsta Dot, DJ Cassanova, K. Salaam (Green Tea Musik) and Decoy creates the sound-scape for ONE SON to expound. Puzzle is a gritty street narrative that tackles inner city violence, ONE SON glides through with lyrics like "It's the remake of Frankenstein and this time we the monster hood mobsters getting rushed through hospital doors the result of street wars". Lyrics is also an important component as ONE SON paints visuals with the stellar title track Canvas, or the must hear CAN I which is a reminder of why rap music has no boundaries.
URL:
https://www.facebook.com/#!/pages/One-Son/202055883152283
Recession Proof brings everything back full circle dealing with the climate of today's economy, the only gripe I have is for Canvas to be longer because it's only ten songs, but I'm sure this was designed by ONE SON when constructing this master piece, he wants us to long for more.
Overall   4.5/5
Purchase Link:
https://itunes.apple.com/us/album/canvas/id455704039
Reviewed by: Carlos Simms edited by Cyrus Rhodes
Review comments: rhodesm@wavecable.com