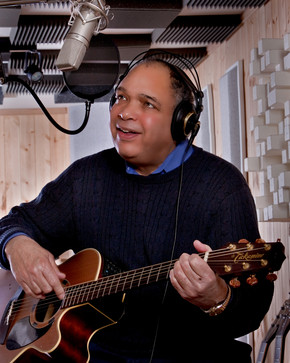 I recently had the pleasure to talk to an artist who has a true purpose in this thing called life and his name is Billy Ray Deiz.   God has spoken through Deiz in a profound way and now Billy only has one direct path to follow.   You will find out that the new 'Song of Joy' EP is actually intended to run like a short musical act with a narrative, plot, scenes/acts and characters–the whole 9!   Readers will also see that Billy's former band The Seven Souls was ahead of its time and that they were one of the hottest LA acts back in the 60s.   From the Virgin Mary revealing herself in a place called Medjugorge to the Lord Jesus Christ being our true king & savior, Billy Ray Deiz will touch on it all.   In this gripping interview fascinating details & points will captivate your senses and will hopefully leave you feeling inspired and motivated.   At least it did for me.
J Rae: So first I have to talk about your 'Song of Joy' EP which now contains five complete tracks.   I had the pleasure of reviewing your first release which featured only three songs (http://www.skopemag.com/2012/07/26/billy-ray-deiz-joy) and what I heard then was very motivational & inspiring.   The word of God is heard loud & clear on your latest EP and I am dying to know what inspired you to create this good work?
Billy Ray Deiz: This project has been evolving for more than a decade when I first conceived of the idea of a new, 21st century musical on the life and times of our Lord Jesus Christ.   This musical features two protagonists, a brother and a sister, teenagers, who stumble upon Jesus giving one of his many sermons to crowds near Jerusalem.   They are spell-bound and realize that they are being called to be among His disciples.  
They come from a very wealthy family, and their father is against this whole "Jesus thing" which causes a rift between them and their father.   As they follow Jesus, they are "adopted" by the apostles and follow Jesus from town to town, witnessing many of his miracles and healings.   They get to know Mary, the mother of Jesus, on a personal level as well.
The two suffer with Mary during the Crucifixion and they are on hand on the glorious day of Easter, when Christ arose from the dead and conquered both sin and temporal death.
I have written a stage narrative, a testimonial by these eye witnesses, and I have also written nearly 20 songs for the musical production.   A number of these songs are offered on the SONG OF JOY EP and a few have already received radio airplay. The full musical, itself, has yet to be staged, although a couple of churches have expressed an interest.   And several years ago, we rehearsed a reading at a local high school, with two high school students reading the parts of the brother and the sister and a high school gospel choir singing many of the songs.
 
J Rae: The 5-track recording definitely lies within the Christian music market but you can't help but notice shining elements of gospel & jazz.   Was this the intention all along and how were you able to bring it all together for this 'Song of Joy' project?
Billy Ray Deiz: I spent two years as children's choir director at Augustana Lutheran Church in Portland, Oregon; during this time, along with the standard songs like "Jesus Loves Me" and "Michael Row the Boat Ashore" the kids loved to sing many of my original songs about Jesus.   In a longer SONG OF JOY CD, which I released several years ago, we feature some of these songs, and they inspired me to flesh out these songs into a full scale musical production.
J Rae: On the cover of the new EP at the bottom it reads: "A Musical Pageant By Billy Ray Deiz" and curious to know what exactly you mean by "Musical Pageant"?  
Billy Ray Deiz: When I was growing up in the church we featured a Christmas pageant each year; with the little kids playing the parts of angels and shepherds and sheep and the Holy Family, including the baby Jesus.   A narrator or narrators would read the Biblical passages about the birth of Christ and the kids would act out the scenes, complete with musical numbers.
When I started working on SONG OF JOY I thought it would be great for churches to celebrate not only a Christmas Pageant, which is a tradition in many churches, but also an Easter Pageant that celebrates Christ arising from the Dead and tells His story in a way that tells His complete story from his birth to his miracles to his conquering of death.
As I wrote the narrative, I used direct references from the Bible, and then I had our Pastor go over it with a fine tooth comb to make sure I was being true to the Word and to the Spirit of the Word.
I truly believe I had Heavenly help with many of the scenes; especially the Crucifixion in which I truly want the audience to feel they are there with Jesus, that they are there with Mary and that they understand the depth of Christ's sacrifice for us, for what He did to save us from sin and open a pathway for all believers–no matter where you live in this world–to go to Heaven.
 
J Rae: Do you play with The Snowy Mountain Boys and wondering if they were featured on this recording?   If so, what was it like working with them on this project and how long have you guys been playing together?
Billy Ray Deiz: Alas, the band as such has yet to go on the road.   But my songwriting continues.   I have worked with a number of other bands over the past decades, most recently with Dreamland Café in Portland and with Higher Power, which featured Patrick Dieter on sax and David Rolin on percussion along with my keyboards and vocals. The essence of Snowy Mountain Boys was that the recordings featured several Nashville Musicians of great talent and helped me get my music to a wider audience on iTunes and Amazon.com.   The goal was that if any of the singles caught on, we would use some of these Nashville pros in our road band.   But that hasn't happened as of yet.
Listen: http://snowymountainboys.com/music/
J Rae: Speaking in terms of these fine Nashville recording artists featured as guests on 'Song of Joy' the Skope readers, I'm sure, would love to know what it was like working with them!   How did these guest musicians help shape the record and make it stronger?
Billy Ray Deiz: I am a BMI songwriter and through one of the BMI newsletters I discovered a great record producer, Clifford Goldmacher who believes that songwriters like me should be given the opportunity to showcase their music using some of Nashville's top session musicians.   Cliff and I immediately hit it off and I have used him —and his great team–on several recordings.   For example, Jim Hoke, who is an amazing musician, is featured with the sax lead on "Gimme Cracked Corn" featured on our SONG OF JOY EP.   Britt Savage of Star Search fame sings background with stellar harmonies on "Keep the Faith".   And the rest of the heavy lifting was done in Nashville.   I will record my tracks in Portland, get them to Cliff, who will assemble his Nashville team and add whatever we need to make it sound great, at a very reasonable cost from my perspective.   I am hoping that some day we will produce a true hit record together.
J Rae: Your song "Gimme Cracked Corn" has been blowin' up on Jango bringing in loads of new fans from all over the world!   Obviously people connect with this track on a major level but I'd like to know from you why do you think that is?   What is the special ingredient in "Gimme Cracked Corn" that has everyone coming back for seconds?
Billy Ray Deiz: Well I'm a big Bill Withers fan, as you can probably tell.   I even reference one of his songs —"Ain't no sunshine"–in this recording, lyrically.   I was fooling around with a chord progression on my keyboard and the song started to develop.   I knew it needed a killer sax part, and so we went to Jim Hoke in Nashville to add his chops.   The result, I think, is what one fan calls "smooth jazz with a message"…and I think this is a very radio-friendly tune that could make the pop charts if given half a chance.   I was working at a radio station when "Oh Happy Day" first hit and I remember how good it made everybody feel.   I think "Gimme Cracked Corn" has that same feel-good aura.
J Rae: Could you give all of the Skope viewers out there just a little bit of background on the other four tracks on the EP?
Billy Ray Deiz: Sure.   I love the movie "Chariots of Fire" and in it there are several keyboard interludes.   I composed a fresh one for my SONG OF JOY and I call it "Mary's Song".   It is a meditation on the Goodness and Holiness of Mary the mother of Jesus, who was, like Jesus, free from sin.   When I listen to it, I feel I am called to appreciate what Mary and Joseph sacrificed for our world and to prepare our world for Jesus; I feel that this song is one that Mary likes and so when I play it, I think of her.
The third song, "Keep the Faith", opens act II of the musical.   Act 1 ends with the Crucifixion.   Brutal.   Act II opens with the disciples in disarray, scattered, with some gathering in a secret location, in an upper room.   As they get ready to sleep, and are drifting off, an angel of the Lord appears and he sings this song of hope:   "Keep the Faith"; as they sleep the angel gives a hint of what is to come:   "God sent you a Savior and He's Jesus Christ our Lord…He sent Him to die for you and raise the Living Word"…the Resurrection and Glorious Ascension.   So Act II begins with hope after the stark horror of the end of Act I.
I then include an instrumental reprise of "Gimme Cracked Corn" without the vocal.   This helps tie scenes together in the production.   And I like it, the musicianship and overall feel.
Finally, I composed an orchestral theme, with strings and timpani….called "A Child Called Jesus".   This would be a scene in the musical where Jesus is growing up and discovering the joys of nature …God's beauty here on earth.
[youtube a4iJ-yDdCQQ]
J Rae: Switching gears here I have to talk about your past now because you have quite a fascinating history.   You along with Tony Lytle, Bob Welch, Henry Moore, Ivory Hudson and Wayne Parnell were founding members of The Seven Souls.   The Seven Souls were one of the hottest LA bands back in the 60s and groundbreaking too because you were racially integrated during a time & era where that was unheard of.   The Seven Souls were even pre- Sly & The Family Stone so you guys were definitely on to something BIG!   Could you take us on a trip down memory lane for a moment so that the entire Skope Universe can soak in the magic associated with your former band The Seven Souls?
Billy Ray Deiz: Yes there WAS magic.   The band started in Portland as Ivory Hudson and the Harlequins and also featured Ray Tusken on guitar and Ron Edge on drums.   Our goal was to take our soul sound to Paris, France but we thought we needed more work, first, and so in the summer of 1965 we all headed to Los Angeles.   Ray dropped out before the L-A trip and we replaced him with Bob Welch from Los Angeles, who, at that time, was our number one fan! In fact Bob used to bus up to Oregon to catch us playing fraternity gigs at the University of Oregon.
Henry Moore and Wayne Pernell and I trained Bob mercilessly in the weeks leading up to our departure for LA and Bob just kept on improving until he became one of the best guitar players in the world and ended up with Fleetwood Mac after his Seven Souls days.
That first summer in Los Angeles we found ourselves in the legendary Goldstar Studio recording new material by the famed songwriting team of Livingston and Evans–they wrote "Silver Bells", "Everybody Loves a Lover", "Tammy's in Love" and "Que Sera Sera"…and wanted us to help them sound "hip" with their new songs.   At that session was music publisher Larry Shayne who shared an office with Henry Mancini.   Shayne loved our group, which also included Mary Lee Whitney at that time, and he signed on as our manager.   Larry helped us land a contract with a Warner Brothers subsidiary that also signed Ike and Tina Turner, and he helped us get Jerry Perrenchio as our talent agent–Perrenchio, now a billionaire, also represented the Righteous Brothers in 1965.
We were off and running and soon were playing gigs all over the Los Angeles area.   But two things occurred to slow us down:   The Vietnam War escalated and the Watts Riots burned down the club we were the house band in and it was a struggle until we landed a gig as the house band at the legendary Maverick's Flat–the hippest club in L-A.  
Meanwhile Ron Edge and I got drafted.   He went into the Green Berets and fought in Southeast Asia, I went into the Marine Corps Reserves and had to leave my dream band.
Soon after The Seven Souls went off to Paris and were a smash in Europe too!   They ended up opening in the U-S for the Righteous Brothers and for James Brown and I was at the Sands in Vegas when they opened for Mel Torme!
 
J Rae: Staying on the same page of The Seven Souls history it's also interesting to note that Bob Welch, who recently passed away unfortunately, went on to play with the iconic band Fleetwood Mac.   I did some research and found out that there is one heck of a history there as well between Welch and some of the band-mates of Fleetwood Mac.   Would you care to delve more into that from your perspective and what you know but if not I understand?   If anything though maybe just talk about your personal experiences with Bob Welch (R.I.P.) not just from the aspect of playing together but more so from a human level?
Billy Ray Deiz: Sure.   Bob Welch had originally met our trombone player, Tony Lytle, when they were both studying in Paris.   Then Tony transferred to the University of Oregon where I met him.   When Tony joined our band he invited Bob to come up and see us play.   We liked Bob a lot and even taught him a couple of our songs and then would invite him up on stage to play with us.   When Ray Tusken dropped out of the band, it seemed natural to invite Bob to step in.   What we didn't know at all was that Bob was very well connected in Los Angeles.   His Dad had been a movie producer and that's how Bob knew people like Livingston and Evans.   He invited the songwriting team to see us perform just after we arrived in Los Angeles, and they arranged for the recording session that was paid for by their publisher, Larry Shayne.
Bob was terrific.   He knew L-A and helped us break in.   We even stayed, briefly, at his Westwood apartment until we found our own place to live–on the beach in Malibu!   Bob loved the music we played and was a great guy to be around, a very hard worker.   He started in the band as the least-experienced of all of us, but he was determined to improve and within a couple of years he was on his way to being one of the best.
We had such great singers in the band–Ivory Hudson and for a time Mary Lee Whitney, that both Bob and I sang background!   I had been lead singer in a previous band but was relegated to background and didn't mind.   Bob, too.   He later blossomed as a lead singer in Fleetwood Mac.
They later had a dispute over royalties that Bob felt was owed to him and there was a falling out.   Even though Bob was crucial to Fleetwood Mac's early success in England, and Mick Fleetwood admits as much, and Bob was the reason the band moved to Los Angeles, in the first place, and ultimately became super stars when Stevie Nicks came on board, Bob was not invited when Fleetwood Mac was inducted into the Hall of Fame and he should have been there!  
Bob passed away this year and we are still all mourning his loss.   My Mom, who was a great judge of character, told me in back 1965 that Bob Welch was going places, and he did!
J Rae: One last question about the Seven Souls here and that is what was it like opening for legendary acts such as: The Righteous Brothers & James Brown?   Bobby Hatfield (R.I.P.) of The Righteous Brothers actually handpicked your band to play at his gala wedding reception at the Beverly Hills Hotel, which was an incredible honor for you and The Seven Souls I'm sure.   I even heard that the great Dick Clark (R.I.P.) was there along with many other high-profile people.   This had to be an amazing feeling for you and The Seven Souls and so could you tell us all about that special day?
Billy Ray Deiz: We'll start with the wedding reception at the Beverly Hills Hotel.   We had been playing as THE band at the Tropicana in Sacramento, one of the gigs we landed after our club in Los Angeles burned down during the Watts Riots, and we were smoking as a group, standing room only every night.   Our manager, Larry Shayne called to say that we would be THE band featured at Bobby Hatfield's wedding reception at the Beverly Hills Hotel and that we could drive down to L-A, do the showcase, and then drive back to Sacramento–which we did with very little sleep!
It was a who's who of Hollywood–and yes we all did shake Dick Clark's hand at the reception before we went up on stage.
We did our set and then it was over very quickly but we had our chance to perform before this star-studded crowd in Beverly Hills!   Personally, it was a great feeling just to be there.   We were also big fans of The Righteous Brothers and did a version of their hit "Lost That Lovin' Feeling" whenever we played–but not that night out of respect for them.
About six months later–when I had just finished Marine Corp Boot Camp!–they were invited to open for The Righteous Brothers in San Diego.   I was given a back stage pass and watched the whole set from back stage–wearing my USMC uniform, head shaved, and wishing I could be up there on stage with them.
I was in training at Camp Pendleton when they opened for James Brown–so I missed that one.   But I was present when they opened for Mel Torme at the Sands in Vegas.   And on several occasions, when I was home on leave from my Marine Corps training, they invited me up on stage at Maverick's Flat to play with them–shaved head and all!
 
J Rae: Jumping ahead now to the present day & time let's talk some more about the 'Song of Joy'.   I have to say that your music on this disc is spiritually uplifting and wondering if that was the purpose all along?
Billy Ray Deiz: Glad you find it spiritually uplifting!   Yes, that was my purpose…I want to lift folks up through the music, give them a positive experience that reflects the depth of God's love.   These are troubled times we live in and many people have strayed, they are far from God and his message of love and redemption.
Through this musical, I hope to help people reconnect to God.   If you are already a believer, I hope it reaffirms your belief.   If you are not a believer, I hope it touches your soul in a way that makes you more curious to know about God and of His great gift to you, through Jesus Christ.
When I first saw the movie version of Jesus Christ Superstar I was disappointed.   I felt the movie failed to truly connect the audience to the miraculous.   I actually saw the stage play with Ted Neely years after I saw the movie, and it was closer to the Gospels and more satisfying to me.   Yet, I wanted to create something that would resonate with a 21st century audience in a new and fresh way that would help to connect a new generation to the magic and mystery of the Bible and of the miraculous.
My musical ends with the apostles and disciples fully engaged.   They have, by now, experienced the reality of the Risen Christ; they know that Christ lives and that because He lives that God is the God of the living and not of the dead, that God desires for all of his children to join him in Heaven and to be a part of his heavenly kingdom.   And these apostles and disciples are energized and motivated to tell the world!   We end with a Gospel version of the familiar hymn "Holy, Holy Holy" (found on the original SONG OF JOY CD)…with the audience standing and clapping and singing their heads off!   My goal when we stage this is for them to feel the same excitement the apostles felt as they took God's message to the world; the fervor of St. Paul, the dedication of St. Peter.
The hour is late, maybe later than we think.   Mary, the mother of Jesus, continues in our own time, calling us to her son Jesus; Jesus, the living Christ, continues His work of redemption here on earth.   Because the world has fallen so far into sin and death there will be a reckoning.   I hope that before this happens, my music may help rekindle the spark among those who believe or who want to believe and help guide them home again.
 
J Rae: Obviously you feel strongly about spreading the word of God within your music and so I'd like to know if Jesus Christ & religion have been a part of you throughout your whole life?  
Billy Ray Deiz: I grew up with a strong connection to God and to Jesus and Mary because of wonderful parents and friends and church members who guided me from my youngest age, from baptism through my confirmation.   I have been rebellious at times, and tried to go my own way, but have come to realize that the only meaningful life, the only true path, is the path that God has set for each of us from the very beginning of time.   By sending his son Jesus to show us the Way, God reaches out in a way that each of us can understand.   He cares for every one of us:   the good and the bad!   He wants us all to renounce sin and to follow Him, to walk from darkness into the Light and to know the Glory of His Kingdom.
When I was in my early 30s, God came to me in a very special way, in a Vision in which the Holy Spirit touched me and cleansed me and made me whole; yet it happened when I, personally, was not willing to walk the extra mile and so I made bad decisions and stumbled for a time until finally I took God's hand–the one He offers each of us–and rejoined His team.   My life has been better ever since.
 
J Rae: I'd like to end with a crucial question that could help majorly change things for the better.   Could you tell us why people need more religion in their lives especially during today's tough times?   And how can we, as ONE, achieve heaven on Earth–seriously?   Please don't feel the need to hold back here or be sensitive in any way because I believe we all need to hear this since we are all in this thing together.   Life is what we make it so let's start now and maybe you, Billy Diez, can help by showing all of us the right & just way.
Billy Ray Deiz: Quite a question my friend.   Are you ready?   Here it goes!   There is only one God.   This God sent Mary who was free from sin, into our world to prepare the way for the salvation of sinners everywhere.   As Eve sinned, so Mary was spotless in the eyes of God.   Then Jesus, son of God, was born to Mary.   As Adam sinned, Jesus was spotless in the eyes of God. Jesus became the Light of our world to lead people to his Father, God.   This Light took on all of the sins of human kind, took on all of the burdens and barriers created by our sins, and He died so that this blemish, this burden and barrier would be removed for all time, and that a Way would be opened to those who see the true Christ to join His team.
Remember when you were little and they chose sides for games and sometimes they left you out?   Well, Christ wants nobody to be left out!   He wants us all on His team.   Every last one of us.   Through our souls, the eternal part of us, we are the very image of God.   But sin tarnishes our soul.   Through the redemption of Christ and the forgiveness of our sins, we are redeemed in God's eyes, we are made spotless like the Lamb and we can join God in Heaven.
Those who deliberately turn away from God, who refuse to acknowledge and accept the reality of God and of God's love, who through envy, greed, malice, extreme anger, hatred, avarice and death and destruction turn away from God's Word and from God's will risk eternal separation from God.
God has not willed that any soul shall perish. Souls who separate themselves from God do so by their own choice, not God's, as we have free will here on earth.
So choose wisely, my friends, choose wisely.
The wonderful thing is that when you choose FOR God, you have great help: you have the help of the Holy Spirit and of all of the company of Heaven.   When you choose FOR God and begin to pray, as Mary requests, "ardent" prayers…You touch God and God is present with you.
The hour is late.   You who have ears to hear, let you hear!
James, in a far off place called Medjugorje in the former Yugoslavia, (look it up on the Internet) Mary, the mother of Jesus, is revealing herself–today–to six visionaries she has chosen to help spread her messages to the world, to help reconcile the world to her son, Jesus.   I hope to visit there someday to experience this in a more personal way.
Here is a message Mary said years ago but that is part of a daily message shared with those who have been called to investigate the Medjugorje miracle
Our Lady Past Message for Friday, 7 December January 25, 1997 – "Dear children! I invite you to reflect about your future. You are creating a new world without God, only with your own strength and that is why you are unsatisfied and without joy in the heart. This time is my time and that is why, little children, I invite you again to pray. When you find unity with
God, you will feel hunger for the word of God and your heart, little children, will overflow with joy. You will witness God's love wherever you are. I bless you and I repeat to you that I am with you to help you. Thank you for having responded to my call."
Yes, Mary is present with us, even today.   And she is calling us home.   Jesus asked his mother Mary to be the mother of all of us when He was on the cross.   Do you recognize the voice of your mother?
Merry Christmas James!
It's time to find your way and allow God to guide you through all of life's obstacles.   We're not alone here and so maybe a perfect New Year's Resolution this year to be more accepting of God's Work and God's Way.   We will all be better off for it in the end; I can almost guarantee it and I'm sure Billy Ray Deiz would agree.   You can purchase the 'Song of Joy' EP right here at:
https://itunes.apple.com/us/album/song-of-joy-ep/id560762916
http://www.amazon.com/Song-of-Joy-EP/dp/B0097ZJNKM.
Happy Holidays!
By Jimmy Rae – jrae2@att.net