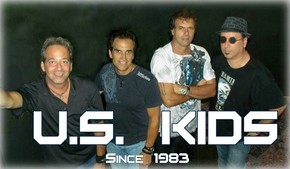 In case you missed The Who reference in the title YES these U.S. Kids are doin' alright and YES they have been rockin' hard for nearly 30 years.   Just as rock seems to run through the blood of all members of The Who, the same can be said for U.S. Kids.   As one of the Tri-State area's most entertaining bands, U.S. Kids has been playing to fans of all ages since 1983.  
The group is made up of four crucial members: lead singer, songwriter & keyboardist–John DiCarlo, Bobby Pizzoferrato on bass & vocals, Carlo Volhl on guitar and Greg McIltrot on drums & vocals.   U.S. Kids has definitely got staying power and these musicians play together like one tight-knit operation.   You can feel the camaraderie and closeness when you hear the music and you see U.S. Kids perform live.
Hailing from Steubenville, Ohio, U.S. Kids has played many shows in their hometown along with venues in Pittsburgh and Cleveland just to name a few.   Wherever the band goes they're just worried about one thing and that's having fun!   Whether the group is playing classic covers or fresh originals, U.S. Kids is sure to please.   As long as DiCarlo & company are having a blast and the crowd is enjoying themselves, life is good.   So just let the Kids play and have fun for heaven's sake!
A lot of exciting things going on right now for U.S. Kids like their recently released album 'Life, Liberty and The Pursuit of Rock!' being featured on The Pittsburgh Today Show and you can check that out right here!
[youtube KFKaV0fOAWU]
You can also watch the video to their song "Let Me Down Easy" off of the new record right here:
[youtube fVfLzDuRJFc]
Or enjoy a CD Sampler Video (http://www.youtube.com/user/iseespotspa/featured) to go along with live videos on the band's official YouTube Channel (http://www.youtube.com/user/iseespotspa).
The choice is yours but one thing is for certain and that is that U.S. Kids has got you covered!   The guys may not be kids anymore but they still play with a youthful energy that is contagious. And that, my friends, is alright with me!   You can find out more about U.S. Kids by visiting these websites: http://www.reverbnation.com/uskidsunplugged
By Jimmy Rae – jrae2@att.net