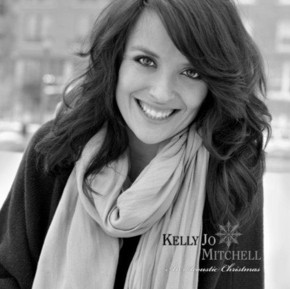 I recently heard Kelly Jo Mitchell sing on a local daytime talk show.   Her sweet and warm voice filled the room and I had to write a little about this woman who is doing something special with the proceeds from her Christmas CD.     Kelly Jo Mitchell has teamed up with   Feed My Starving Children.   100% of hard copy CD sales of her Christmas CD, "An Acoustic Christmas", will be donated to Feed My Starving Children and a portion of the digital sales will also go to FMSC.
Her bio reads like this; Kelly Jo Mitchell is based in Minneapolis, a city with elevated streets in the sky that more often than not confuse her. But she grew up in a small town in Wisconsin with no streetlights, no fast-food franchises and a great family. Listening to her dad harmonize to Eric Clapton classics and Perry Como's Catch a Falling Star on cassettes while riding on his lap in a beat-up blue station wagon is her first musical memory. Her father sang back-up vocals for a handful of Wisconsin folk singers. The long car rides were his rehearsals and Kelly Jo's nesting ground to hone in on her natural musical abilities. The oldest of four and the only alto, she and her two younger sisters began singing along with their father. This introduction to folk music pushed Kelly Jo toward a microphone.
[youtube xlJWvYE-_I8]
She took center stage for the first time after getting the leading role as Abigail Adams in her fifth-grade musical, Dear Abby. By 11, she and her father were singing the national anthem at local sporting events, county fairs, and community fundraisers. Her two younger sisters quickly joined the duo, and the Mitchell Girls–and their dad– were singing regularly in three-part harmony a Capella, and opening for country singers the Kinlay Sisters. Within a few years, Kelly Jo had already sung the National Anthem at a Milwaukee Brewer's Game televised nationwide on TBS
By her first year in high school, Kelly Jo ventured into songwriting. A self-proclaimed band nerd, she spent her lunch hours in practice rooms playing out-of-tune pianos writing songs and performing for her classmates. At 14, she wrote her first song, Heaven Filled With Gold, featured on her first acoustic six-track CD in 2004, for a band teacher who pushed her and inspired her to pursue music. She has been writing tirelessly since.
Within the last four years, Kelly Jo has shared the stage with local favorites, Kid Dakota, Adam Levy, The Twilight Hours, Breanne Duren, Cancer, The Great Upset, Aria Souder, Art Vandalay and many more igniting fans with her quirky stage presence and personable demeanor. "Paper Cuts" Official Music Video Red Card Productions.
Tell us a little about how you got started in music.
I grew up listening to my dad sing back-up vocals to a couple of Wisconsin singers/songwriters. My two younger sisters and I started singing with my dad pretty quickly. I played a handful of instruments in band and started writing music and really playing piano then too. It always came naturally to me, even if what I was writing didn't have the best lyrics or the melody, it made sense when I sat down at the piano and sounded out the chords and started adding lyrics. So, I kept writing and playing.
[youtube L82SMtnFNzU]
Who were your inspirations?
My dad and my grandma because they taught me how to harmonize before I could read music. I could go on for days about other musical influences: Eva Cassidy (her rendition of Somewhere Over the Rainbow made me want to sing in a coffee house to a room full of caffeinated people) Fiona Apple, Tracy Chapman, The Wailin' Jennys (I have a soft spot for three-part harmonies), The Civil Wars, KT Tunstall, Ella Fitzgerald, Amy Winehouse, Iron & Wine, Eliza Doolittle (she is spunky and cheeky and the girl can sing).   But let's be honest.. my first three CDs were Paula Abdul, Amy Grant (actually on cassette) and The Now and Then soundtrack.. so who knows what really influenced/or continued to influence me.
What do you want listeners to get from your music?
I want listeners to be able to relate to the music or a song on some level, while also just enjoying the songs for what they are. I write some songs with a goal to just have a fun upbeat melody, but others are a lot more personal. I think the songs I have written throughout the years are a pretty good reflection of who I am. So, if listeners hear a song, and it makes sense to him/her and they feel like the music is sincere, then I am happy.
Tell us about FMSC and how that came about?
Feed My Starving Children is a non-profit organization whose goal is to feed and nourish all children.   I organized a volunteer outing for 40 people a few months ago and really connected with the mission and left wanting to give back. I contacted the organization and partnered with them this holiday season to give back 100% of the hard copy proceeds and a portion of the digital downloads of my Christmas CD, An Acoustic Christmas, to FMSC. It only costs 22 cents to make a meal for a starving child. I will know at the end of January how much we raised, but I hope to be able to feed at least 3500 children with proceeds of this CD.
Where can we buy the cd?
iTunes, my website (www.kellyjomitchell.com/store), follow me on facebook/twitter/youtube.. and find out the latest ways to buy this CD, get free downloads to other original songs, etc.
 
Any other new projects in the works?
I have spent the last few months working with FMSC, preparing for my Holiday Shows at the Nicollet Island Inn and performing every Sunday night this month to help promote my partnership with FMSC. I am excited for 2013. I am booking February-July now and for the next couple of months so that is exciting!
Kelly Jo Mitchell "An Acoustic Christmas":
I am working on another nonprofit partnership (stay tuned with more details). I am also excited to work on a couple of other side music projects with some local Minneapolis musicians and artists next year. I will keep people updated on Facebook and my website and will be posting videos on YouTube to share project updates. I am most excited however to learn how to play Ukulele.
Diana Olson – diolson05@yahoo.com