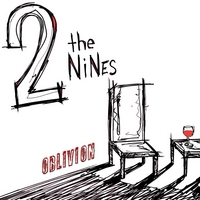 About the Artist: 2 the Nines is a fascinating musical project based out of Southern California. Band members consist of TJ Runnells (vocals, acoustic and electric guitars, ukulele and beatbox), and Nick Midulla (lead acoustic and electric guitars, bass guitar synths and organs, drum programming and percussion). Reading from their bio: "Primarily an acoustic-based endeavor, the partnership also incorporates electric guitar, bass, drums, beats, percussion, human beatbox and guitar synth to achieve musical cocktails, from simple to complex," says Midulla, who provided a variety of guitar styles to the project and produced the album in house. Vocally Runnells adds soulful and haunting vocal melodies accompanied by his unique and sometimes pulsating rhythm guitar work.
URL – http://www.2theninesmusic.com/
Review: "Oblivion" is their debut release and it has much to commend it. Admittedly, there is a whole lot of variety to these arrangements and performances. First: This impressive 2 some brings to the table some amazing songwriting skills and solid session performances. The guitar work and other musical contributions of Midulla are off the charts. Second: vocalist Runnells hits the mark remarkably by just letting it all hang out. Third: their sound and amazing songwriting touch and is possesses a wide degree of latitude. In fact one could classify "2 The Nines" as a four genera artist: Jazz-Folk, Pop, and even a dash of Hip Hop. All songs are a skillful combination of all the aforementioned genera's. Music will remind you of Sublime, Red Hot Chili Peppers, but even Babyface to Boyz to Men. "2 The Nines" has the songwriting prowess to be extremely dangerous. There's also a unique quality to this catalogue that breaks the mold when compared to the overly predictable, forgetful rock that's been filling the airwaves lately. What am I trying to say — well let me start by saying there is nothing predictable and forgetful about "2 The Nines."
Conclusion: I've always said if you can play it a party, then it's marketable. The music of "2 The Nines" is extremely marketable – with amazing songs and music that just makes you feel good, but also has the courage to explore powerful feelings of yearning and lost loves.  
by Heather Savage edited by Rory Richardson
review comments: heathersavage5@gmail.com
Rating: 5/5 Stars