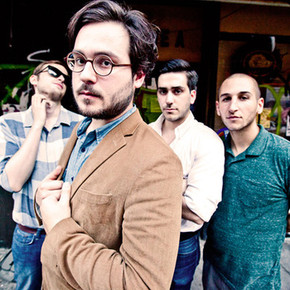 St. Louisan Cameron Matthews' move to NYC has proven to be his best decision yet, turning this Midwestern songwriter's dreams of taking on the big city into a reality by recruiting some of Brooklyn and Manhattan's finest players. Led by the husky/sweet vocals of Matthews, Bear Ceuse is filled out by the fanciful and dissonant guitar work of Chicagoan Adam Horne, French horn extraordinaire and current Juilliard student Jordan James on bass, and New School alum/jazz mainstay Danny Sher on drums.
"Entertain Me" MP3:
http://o.aolcdn.com/os/music/bear-ceuse-entertain-me.mp3
Bear Ceuse's upcoming record Don Domestique is inspired by the '90s hardcore sound of Chapel Hill, and focuses Matthews' efforts on the home and the meaning of domesticity. Recorded by long-time collaborator Patrick Crecelius at Seaside Lounge (Beirut, the National, Okkervil River) in Brooklyn, and mastered by Paul Gold at SALT, Don Domestique is a rock 'n' roll beast. The band was recently discovered by U.K.-based label Medical Records, who will release their debut album in early 2013.