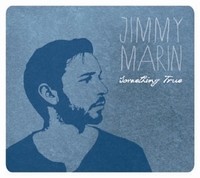 Having once fronted a band called Liquid Phoenix, Aussie singer-songwriter Jimmy Marin now fronts himself.   Something True is his debut album; written, recorded, and produced on his own, it covers five years' worth of compositions.
 
Track 1, "Fly Away," has a sprightly intro. The speaker expresses a desire to "fly away," and seems to have a good indication of his future objectives: "Now I know just where to go / Now I know just what to do." Towards the song's end, an electric guitar makes an appearance for a zippy blues solo.
 
With the voice being an instrument in itself, Marin does some vocal experimentation on track 2, "Anybody out There." The results are more than adequate.
 
The following track, "Beautiful Stranger," is not a Madonna cover, but a soulful and slightly sad acoustic piece. Marin's voice is especially compelling during this verse: "Who are you, standing at my door? / Who are you, I've seen you here before." Also worth mention here is the John Frusciante-like rhythm guitar that adds nicely to the wistfully contemplative ambiance.  
[youtube 9oPURC_BOGQ]
"2 People" appears to be a blues song flirting with a bit of country. The vocals are heartfelt; the speaker is hoping to get enough money for a "bottle o'wine." Bleak, but engaging. Again, good background guitar work.
 
The song "Talking to Myself" offers a beautiful chorus. Seriously, have thyself a listen. As for the track "Blues for You," it lives up to the title with its "crossroads" style blues acoustic guitar.  
 
In "Broken Window," Marin summons the harmonica for a song about hard times and fleeting hopes. The final track, "Whisper," has a somewhat mysterious intro, quite unlike any other piece on Something True.
 
Much of the album's lyrics may seem troubled, but the tone is so often full of life and melody that one feels all the dramas will sort themselves out.
 
Regarding the six-string work, the solos are done at the guitarist's own pace. He knows he's good, and is able to avoid the "Olympian athlete" temptation of trying to set speed records, cramming in as many notes as possible per second.
 
Something True is also a well-produced record. With such clarity of sound, it feels like Mr. Marin is serenading you at your favorite local coffee joint.
 
To add "something true" to your next cup of coffee, go to: http://www.jimmymarin.com.au/buy.html
 
Ray Cavanaugh – owleyesgatsby@yahoo.com