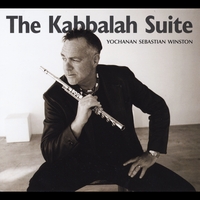 With smooth Jazz, New Age and classic composition as vessels, Dr. Yochanan Sebastian Winston has rendered a 10-track album of musical interpretations of the teachings of Kabbalah on his album, The Kabbalah Suite. Each track corresponds to one of the 10 Sefirots (attributes) of the mystical Jewish sect. Originally commissioned by a Rabbi friend in his hometown of San Diego, the master woodwind composer recorded and crafted the project into an interpretive album of beliefs, tenets and emanations.
Buy:
www.cdbaby.com/cd/yochanansebastianwinston2
Opening to the dour "Keter" (crown) this track is minimalism in action with what sounds to be didgeridoo (though it could easily be bass flute) and flute tandem with simple backing percussion. The eerie ethos of the track certainly speaks to the mystical nature of the album and prefaces the instrumentation to come. "Binah" (understanding) brings in the smooth Jazz facet opening to alto saxophone at the lead, foundation-building piano notes and slight drum work at the rear. To my ear, this mid tempo piece evokes imagery of dark lounge music more so than Kabbalah teaching, but it is important to remember this is an album of interpretation. "Khesed" (loving-kindness) features more flute work over backing Jazz percussion while "Hod" (splendor) touches more of the New Age genre with flute over backing bass lines and synth notes, with intermittent electronic clicks and clanks in the background.
[youtube bEAiwCVGNcA]
Confession: I know next to nothing about Kabbalah as a belief system and even less about the teachings of it. What I do know is music and what I hear (once I remove myself from the ethos of the album) is an easy listening album primarily comprised of Jazz compositions with facets of New Age thrown in for measure. Winston certainly lives up to his accolades as a master woodwind artist in that his command of the instrumentation is varied and first class and the album production is clean, allowing the highlight instruments to shine within the tracks. Fans of smooth Jazz (and I suppose of Kabbalah), this one is for you.      
By: Chris West – cwestlaz@gmail.com
Rating: 3.5/5