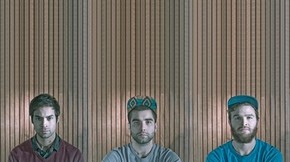 London 3 piece Dems have announced the release of a new single 'Christabel' which will be available for download from 27th January 2013.
'Christabel' will be the first in a series of songs made available for free from the band's website. Their ambitious plan will see them release a new single every 2 months throughout 2013.
[youtube jYoORrSHOLI]
The video for Christabel was shot overnight and at dawn by a Sussex lake and sets the scene for what will be a series of storytelling audiovisual work shot and edited by the band.