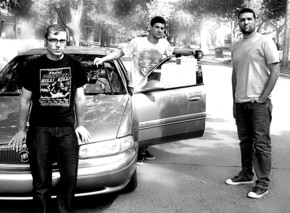 Legendary Wings just released their raw and energetic Dirtnap Records debut, Making Paper Roses. The guys are offering 2 MP3's to wet your appetite.
"Paper Roses" MP3:
www.dirtnaprecs.com/PaperRoses.mp3
"Nachos" MP3:
www.dirtnaprecs.com/Nachos.mp3
Unsolicited demos are generally a lousy way to round up new bands for a label, but once in a blue moon you get one that's just that good. That's how Kalamzoo, MI's Legendary Wings got snatched up by Dirtnap. Musically, the apple that is Legendary Wings doesn't fall too far from the tree that is Dirtnap Records (think caffeinated, raw, fast pop), but they are also unmistakably and instantly identifiable as originating from the Midwest. Potential Johns meets Gaunt? Scared Of Chaka if they were from Minneapolis? Denton with jangle?