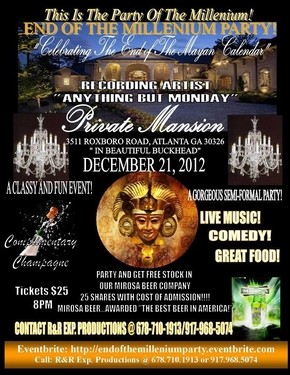 Another interesting year has just breezed by and I'll say it went FAST! Looking back, we should be thankful for all the good times and progress that we made. It's not over until it's over, so I'm looking forward to seeing fruits of our labor popping up over the next few weeks and into 2013.
On that note, watch out for my MUSICOLOGY 2101 e-book to be released for mid-December – http://www.nucherte.net/#!la-jackson/c13xy. In conjunction with my upcoming book release, I'll have accompanying EXPOSER SERIES music compilations, featuring great music by up and coming artists.
During December, we've got some great parties to attend, like the Jus' Blues Foundation (Holiday Inn Select in the Camp Creek Marketplace, Saturday, December 8, 2012) and the Georgia Music Industry Association's Holiday Party & Song Contest (Edgewater Records Studios, Sunday, December 9th, 2012). Speaking of the GMIA, check out the website at www.gmia.org for my STUDIO BYTES column, featuring who's doing what in Atlanta's studios. Stephen Stone of Atlantic Station's Party in the Park, Ruffhouse Records and Fantanas fame has an "END OF THE MILLENIUM" Mansion Party on December 21, 2012 in Buckhead — in conjunction with the quadruple million-selling group Anything But Monday, he's giving away free shares of Mirosa Beer stock with admission! (678-710-1913, 917-968-5074)
PICTURE = DEC 21
[youtube mAuCBnQEAm8] [youtube 9HZ2LZrb2tg]
MP3 AUDIO: A beautiful holiday song by ANN NESBY, "Holiday Love" – www.reverbnation.com/mkmexclusives
HAPPY HOLIDAYS and we'll see you in 2013!!
 
By LA Jackson <musicmon101@gmail.com>
"NOTHING IS IMPOSSIBLE IN GOD'S WORLD" – MY BOOK'S FINALLY READY TO GO!!
Coming your way NOVEMBER/DECEMBER 2012: the MUSICOLOGY book series in e-book and paper versions!! Learn more at http://www.nucherte.net/#!la-jackson/c13xy…..get your taste buds wet at: http://ezinearticles.com/?expert=La_Jackson
Link up with me at www.facebook.com/damusicmon
TO ALL PARENTS: Get this Bernard Percy book, for you AND your kids!!!   Just go to www.howtogrowachild.com – I know the kids that helped write it!!!
Get the new MKM EXPOSER VOLUME 2 Compilation –   NOW through www.bfmdigital.com and at Amazon, eMusic, imeem, Yahoo Music & iTunes: http://itunes.apple.com/WebObjects/MZStore.woa/wa/viewAlbum?id=310798432&s=143441
See our affiliated artists at www.reverbnation.com/label/mkmentertainment.   With more than 100 featured acts, millions of exposure views and over 1.5million plays… we are STILL counting and keeping it moving right along!!
We are building our channel: http://www.youtube.com/lajackson