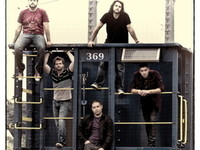 More launching pad than interim project, Connecticut's Addison Station is set to release their new EP, Suit Up. The album and a corresponding East Coast tour will serve as foreshadowing for the spring release of their full-length, Unplug and Run. Founding member and lead vocalist Trent Gerbers has described the thematic ethos of the album as: "exploring the line between love and lust, with each tune looking at unconventional types of both." Musically, the tracks resonate with fullness thanks to their expanded lineup versus a pure "vocal/guitar" foundation.
"Feel It":
http://www.reverbnation.com/addisonstation/song/14978429-feel-it
The jangle guitar and lead tandem are the primary musical veins of opening track "Burn" in what plays out as a standard Pop Rock track. The track is guitar and vocally led with intermittent appearances from the rhythm section and keys in the form of fills. It's an appropriate opening track with its own brand of groovy swagger. "Feel It" steers the album in a different direction all together with an agro drumbeat that matches the urgent lyrical delivery. Backing synth a la The Killers loads the track with backing electronica in what sounds like a mash-up of their radio-friendly Rock with electronic-laden club tune; the track overall left me confused in regards to the direction and inclusion of it with the rest of the bunch. "Robyn" is an acoustic-led, mid-tempo ballad with lyrical matter of admiration and adoration. Turns out this is an autobiographical track in that it was based on the sister of guitarist Jeff Kenniston after she was involved in a car accident. Pop Punk electric guitar chug opens "Rock Like A Party Star" and features many of the hallmark facets of a Blink or Sum song. Again, here the album veers in another direction in execution.
If the EP is indeed a taste of the full-length to come, fans should expect quite the diverse album. Multiple facets from multiple genres make an appearance on this one; perhaps it is their diversity shining through in their songs or perhaps the aim is for mass appeal. The one commonality between all the tracks is that each is appropriate for radio format, if not spread across several different formats. The musicality is there, the songwriting is technically tight and the tracks are produced well; the only thing left in question for this writer is intended direction.
www.addisonstationmusic.com/fr_welcome.cfm
www.facebook.com/addisonstation
Christopher West – cwestlaz@gmail.com