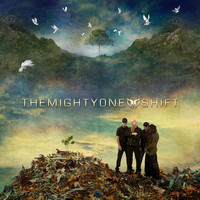 Some may fear 21 December 2012 as an apocalyptic day. Some may view it with indifference. Vancouver-based Tim Steinruck a.k.a. "The Mighty One" views it as an "opportunity to remember who we truly are and why we are here. Because we are all Mighty and we are all One!"
He believes that there is a shift underway in human consciousness. Such song titles as "Countdown to Ascension" bear testament to his belief. "We're not human beings having a spiritual experience…we're spiritual beings having human experience," says Steinruck, who preaches from the gospel of a new kind of rock — a conscious rock that echoes a sense of both self-empowerment and human connectedness.
Coming from ultra-conservative Mennonite roots, Steinruck dissented in the form of Motley Crue and AC/DC. Now fronting his own band as "The Mighty One," he has produced the album Shift.
From the initial track, "Waiting for You," The Mighty One establishes an album of impeccably produced stadium-caliber alternative rock. Steinruck can climb octaves, as he gives voice to his metaphysical explorations. There are also engaging dual-vocals towards the end of this song.
[youtube hdDUX6NU83Y]
Track 2, "Chosen," has a highly engaging guitar into, which should pique listeners to some of the excellent six-string craftsmanship that is laid down at different points during Shift. The ensuing track, "Peace in Me," features a guitar as heavy as that wielded by the Black Label Society.
Track 5, "Stand Up," has the chorus "get off your knees." For Steinruck, "getting off your knees" seems to be an act of rebellion against his Mennonite roots and standing up to partake in the sort of life that he wants for himself.
Track 6, "Beautiful Accident," once again features an ass-kickin' guitar intro; somewhere in the metal underworld Dimebag Darrell is showing approval. The guitar also jumps to the forefront in a harmonious but solemn interlude.
Track 7, "Mark on my Soul," begins with fine, ominous background guitar. Such lyrics as, "praying to God, whoever that is," suggest a spiritual ambivalence with a hint of despair. In case you are wondering, track 10, "Mother," is not a Danzig cover.
The 13th and final track, "Connected," has a truly moving acoustic intro. There is something so raw and genuine about Steinruck's vocals on this piece, which could be a radio hit. On the whole, Shift is quite a radio-friendly album, but one also having bite and depth.
Ray Cavanaugh – owleyesgatsby@yahoo.com