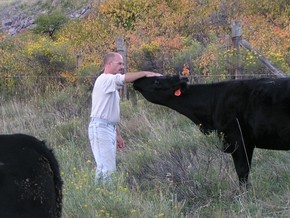 Too often, the pace of life tends to mandate a bulk of our time. Careers, family and the responsibilities that come with them tend to jump in line ahead of our desires. Need outweighs want. So, it goes without saying that most of us have something in our lives that we've always wanted to do; but for one reason or another, haven't. Maybe it's a hobby we never pursued or a project we never got to finish. For singer/songwriter/rancher/farmer Michael Julian, it was a box and the unfinished things in it.
"The West" MP3:
http://k003.kiwi6.com/hotlink/3zk7rwq457/the_west.mp3
Musical inclinations began with Julian as a young kid in Chicago. He joined the choir in third grade elementary school, which led to a youthful, exuberant love of performing. "I remember being about eight-years old on my front porch, getting all my friends to sit in front of me and playing Jackson 5 records," Julian said. "Trying to sing like Michael Jackson, at the time I thought I could sing like him pretty well and that was a lot of fun. I was eight and I would just belt it out."
With his love of music and performance in place, it would be at 13, in 1974 that would prove to be a pivotal year for Julian. "It was in the winter of '74 and a friend of mine started showing me some guitar chords," he said. "Stuff like 'Let It Be' and I think there were some CCR songs in there as well. And I got a little guitar from my parents that Christmas and it was a snowball effect from there. And as soon as I started playing, I wanted I start writing. It was just that first, immediate inclination for me… I have friends that are all about guitar and playing really good guitars. Some of them are into leads and others are into rhythm. Me… the songwriting thing just really bit me from the start and I've been affected since."
When Julian started college at College of DuPage, his interests led him toward theatre. Though he "still played for friends and parties" he plunged headlong into acting, drama and musical theatre (which garnered him one of the first two John Belushi Memorial Scholarships). "The musical theatre was fantastic, it was a great experience because of the good vocal training and endurance and things like that, but on my own I continued to write and play guitar for myself," he said.
After college, with theatre under his belt, Julian's life was again pulled toward music. "It was the early 90s and I went out and did some open mics and I got an invitation to do my own sets," Julian said. "So moved into the city deliberately to pursue that with a friend and we dove in getting to know other people who were musicians and forming little bands and stuff like that. There was one band called the Kui Lee Five [that Julian wrote and played with] and the band did really well. We were gathering a following so we started working on an album and we were getting a little taste of the door approaching kind of things and we, like a lot of them, disbanded."
Eventually, the novelty of the Chicago music scene began to wear on Julian and again he felt his life pulling him into another direction. "I found myself getting pretty burnt out on playing out and the whole night life scene. The playing out until two to four in the morning and then going back to your bread and butter job in the morning," he said. "I met Henry Brockman at a farmer's market in Evanston, Ill and fell in love with his vegetables and organic meats and I decided to leave the city and go into the country and learn how to farm."
After learning vegetable farming and livestock, Julian relocated to Colorado, met his wife and now has 12 years of agriculture under his belt, living on a fully functioning ranch raising beef cattle and managing an orchard. But as I mentioned before, this feature is about unfinished things.
"I've decided to schedule some of my work week to going back… I've been carrying this box around for years and years," Julian said. "All my songs and lyrics, a million cassette tapes and even reel-to-reel tapes. I thought it was something I was saving for retirement when I had time to go back over it and rekindle it for some reason. But, it was time to bring the box out."
Since revisiting his body of work, Julian is again plunging headlong into music and continuing to hone his songwriting craft. "It's rekindled my songwriting to write new stuff," he said. I'm writing new songs, fresh songs, songs about my life here and my life as a new father and as a fairly new husband and also life itself and trying to make it. So, with my wife Sara, we decided together that it would be OK that I would take the time to pursue an actual career."
Julian's tracks are much in the folk vein with heavy rock leanings to balladesque acoustic anthems. "Two Steppin'" seems at least semi-autobiographical about the time Julian became disenchanted with the music industry with opening lyrics: "I've been dying for a living seems like most of my life/ living for the weekend waiting for the night. Playing hardly moved me like it used to anymore/ my rollin' stopped a rockin'/ my rhyming wasn't breezing." "Fool's Ball" opens to upbeat acoustic chord progression and features anecdotal lyrical matter over backing vocals at the chorus. Conversely, "Oceans of Pearls" is a demure ballad acoustic number with poetic, adjective-laced lyrics that meld nicely with the down tempo ethos of the track.
If Julian's recent pursuit of a longtime passion says anything, it says that sometimes the unfinished things are the important things that warrant pursuit. They are the boxes that need to be opened. For more on Michael Julian and his tracks, see his site at http://musicxray.com/xrays/777409
Christopher West – cwestlaz@gmail.com
https://soundcloud.com/michael-julian-colorado
http://www.reverbnation.com/michaeljulian#