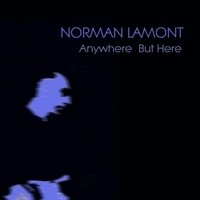 Norman Lamont comes to the airwaves from Edinburgh, Scotland. He has been playing the songwriter scene since 1990 earning his fan base one song at a time. His latest release, "Anywhere But Here", does not disappoint with an eclectic mix of thought provoking tunes that spin in your head like a vivid dream.
This CD is a compilation of songs from Lamont's previous projects spanning from 2004 to now.   It opens with, The Desert Was Better", which sets the mood for the things to come. The crowd pleasing hit, "The Ballad of Bob Dylan" is amongst 12 other tracks that are nestled in with numerous other pleasers from his past.
[youtube cI65LG4qpcI]
Sounds like the songs have found a nice home. Each ballad adds to the other and they play one by one as you sink deeper and deeper into Lamont's world. He has included the best of the best spilling out haunting stories with an atmospheric ambiance. His music seeps in your ears and takes over your soul. It is an extremely mellow vibe that relaxes you into a gratifying state.
While in his world the melodies allure you to listen carefully to the lyrical content. Each song has a blissful tale of contemplative life lessons, love lost and yearning. He pours his heart into his musical pursuits and it is revealed through whimsical productions and a solid mix of prosody between his words and music.
If you are looking for something original unlike anything you have heard before, look no further. Norman Lamont is a hidden secret that needs to be shared with the world. I enjoyed the journey this CD took me on and feel compelled to expose the talent that Lamont so naturally creates. "Anywhere But Here", is not only beautiful music, it is also a tale of talent galore. Some people have "IT", that "IT" that no one can describe, but you know it when you hear "IT".
Rebecca Hosking – hoskingrebecca@gmail.com