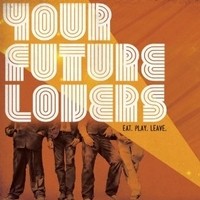 About the Artist: San Jose based band Your Future Lovers just released their latest CD entitled "Eat, Play, Leave" in 2012. Band members include Tom Jackson (Lead Vocals, Guitar), Greg McFall (Bass, Vocals), Alan Chang (Keys), and Brad Ranola (Drums) This CD was produced by Alan Chang.
I have to say I was extremely impressed with the opening 3 tracks "The Train", "Somebody in the Dark" and "The Song on the Radio". They made quite the first impression with me. Each one possessed my full unadulterated attention, eager for what lied ahead. To be honest: I expected cheesy Singer Songwriter cut from the same cloth as say a   Jason Mraz. Not that there's anything wrong with Jason Mraz, I just want to hear something new and different. What I discovered was actually quite the opposite. The whole CD is wonderful and is full of what I would call a satirically rocked out style with pop-style music that appeals to so many different senses on so many different levels. It reminds me of The Minus Five, Counting Crows, Parachute.   I can also hear the slight Psychedelic-Funk-Americana influence in there as well. What I really like about Your Future Lovers is there is no attempt to deliver what I call over the top pop. Cheezy music with a handsome face via top flight sampling, cookie cutter songwriting via a mix that sounds more like a commercial than a piece of music.   Eat, Play, Leave will also appeal to both advanced and novice listeners alike. Whatever kind of listening level you're on – some will identify with things while others will not. Like a three layered cake Your Future Lovers is one band that has allot of depth and has so much to offer.   Weather it's musically, lyrically, inspirationally, emotionally, spiritually – if you feel like music is taking us in the wrong direction than rest assured Your Future Lovers is taking us back in the right direction with "Eat, Play, Leave."  
Top Track: Song on the Dario, Always, I got it Easy"
FACEBOOK – https://www.facebook.com/YourFutureLovers
TWITTER – https://twitter.com/YorFutureLovers
AMAZON – http://www.amazon.com/Eat-Play-Leave/dp/B009Y4FJR2
Final Word: Your Future Lovers will affirm your faith in music again. They represents all that is magical, real and good in music and their latest CD Eat, Play, Leave delivers a highly passionate 11 track catalog via top flight musicianship, amazing songwriting and music that covers all the bases: Rock, Pop and Psychedelic-Funk-Americana.
Send review comments to indiemindymccall@gmail.com
by Michael Keith edited by Mindy McCall